The biomass based biofuel & bio-based ethanol report will take you through Technology Scouting, Innovations, Commercialization, (Startups/Collaborations), Market Research, Regulatory Authorities.
---
Technology Scouting – Biofuel
Technology scouting is a methodology that does technology forecasting. Technology scouting intent at assessing relevant innovations that startups, university IP, research centers, companies, and firms are undertaking. By integrating these innovations with the respective business can help to boost business. The process is devoted to corporates, innovative start-ups, and technology-based companies.
This biofuel report will disclose the technology scouting of production of aviation biofuel and gasoline catalytic production.
Report on Biofuel Production Process Progress
Report on Production of Aviation Biofuel
SHOWA SHELL SEKIYU [JP] has developed a technology acid-catalyzed polymerization reaction. The innovation is in Biojet fuel Biomass-derived isoparaffin. We analyzed the study and it discloses the method of producing an aviation biofuel which includes dimerization of biomass-derived pentenes. The acid-catalyzed polymerization reaction is the foundation. It further undergoes hydrogenation in presence of a catalyst under specific hydrogen pressure to produce the biofuel. The source of biomass is hemicellulose and cellulose. The biofuel comprises of 90.0% by volume or more of C10 to C12 isoparaffin.
Aravy et al,2020 have developed Thermal hydro-catalytic cracking. The innovation in Bio-aviation fuel from waste cooking oils. The study discloses the single-step thermal hydro-catalytic cracking for the production of bio-jet fuel using waste cooking oil (WCO) under specific conditions wherein the catalyst utilized is Zinc aluminate. Moreover, fraction distillation further yields various types of fuels such as biogasoline (< 120 °C), biokerosene (120–245 °C), biodiesel.
Report on Gasoline Catalytic Production
XylecoInc has developed cellulosic-biomass-derived gasoline. The study discloses a method for producing gasoline derived from cellulosic-biomass.By processing cellulosic or lignocellulosic biomass to obtain a feedstock via converting the feedstock containing one or more saccharide units either directly (e.g., by deoxygenation) or (e.g., catalytically, chemically, or biologically) into a fuel (e.g., biofuel).
Biomass Processing For Biofuels
Catalytic Degradation: A patent studied disclosed a catalytic biomass pyrolysis system. It comprises reactor, separation unit, condenser unit, catalyst regeneration unit, reduction unit, and catalyst delivery stream. Wherein under pyrolysis conditions and presence of catalyst biomass is processed and converted into bio-oil or bio-crude that can be further converted into biofuels.
Dehydrogenation Process: A patent studied by us disclosed a process for pretreatment of biomass via catalytic dehydrogenation in presence of hydroxy-sulfonic acid.
Hydrothermal carbonization: A patent studied disclosed a hydrothermal carbonization process utilizing the waste biomass for the production of solid biochar. It is a method of biomass up-gradation that improves transport, storage, and fuel characteristics. It helps in improving grind ability, pellets durability, hydrophobicity, energy density, combustion behavior, and calorific value. Additionally, it also helps in improving the environmental performance of solid fuel produced.
Trans Esterification Process: A patent studied by us discloses the process of using base catalysts (NaOH/γ-Al2O3) for biodiesel production wherein the process involves undergoing transesterification process with variable concentrations of the catalysts hence shows best conversion of biodiesel from coconut oil is via using 3% NaOH catalyst.
---
Each year Signicent provides consultancy to hundreds of organizations to help transform their innovations to value.
---
Innovations in Biodiesel Production
Bdi Bio Diesel Austria Using 100% waste oils and fats for biodiesel production. Fully continuous process. No settling processes. Glycerin is also produced in the same line.
Department Of Chemistry, Thaksin University Thailand, Biodiesel was produced from coconut meal's oil. Bioethanol was produced by Saccharomyces cerevisiae. The highest yield was obtained from dry processing. The production of ethanol constantly increased. A good opportunity to reduce the cost of biofuel production. Cost-efficient process for biofuel production from coconut meal & yeast.
Fuel Generation From CO2
Centre for Bioengineering and Biotechnology, China University of Petroleum, Qingdao unveils the use of multiple processes such as photosensitizers, photocatalysis, photoelectrocatalysis, or coupling with enzymatic catalysts to fulfill the conversion of CO2. Wherein utilizing biocatalysts that improve efficiency in catalyzing biochemical reactions.
We analysed a study by Nanotechnology and Bio-Engineering Research Group, Department of Environmental Science, School of Science, Institute of Technology Ireland. The study unveils a continuous-flow microfluidic PEC reactor system that works on the principle of artificial photosynthesis. The conversion of CO2 into liquid fuels occurs by the transfer of reactants from the active sites of an electrode to an iron oxide/cupric oxide (α-Fe2O3/ CuO) photocathode in presence of solar light irradiation.
Report on Innovations in Sustainable Aviation / Marine Biofuel
GEVO (the United States, 2005)
Gevo's SAF is a renewable drop-in jet fuel produced from a broad range of non-petroleum biomass sources using the alcohol-to-jet (ATJ) conversion processes. Alcohol-to-Jet Synthetic Paraffinic Kerosene (ATJ-SPK) is Sustainable Aviation Fuel (SAF) that is one of the few non-fossil-based alternative jet fuels. Gevo can produce renewable jet fuel from many sustainable sources, such as GHG neutral (or negative) corn, molasses, wood waste, and agricultural byproducts.
GoodFuels (Netherlands)
GoodFuels' second-generation sustainable bio-distillate MD1-100 biofuels are produced from certified feedstock that is labeled a waste or residue. The major features include up to 90% CO2 reduction, eliminates Sulphur (Sox), significantly lowers Nitrogen (NOx) -37% and Particulate Matter (PM) by 60%. It provides sustainable biofuel in the shipping industry. It is broadly produced from certified feedstock.
Neste (Finland, 2005)
NesteMY Sustainable Aviation Fuel™ provides an immediate solution for reducing the direct carbon emissions of flying. Aviation fuel is produced from 100% renewable waste and residue raw materials. The raw material is cooking oil and animal waste fat. The fuel can reduce harmful particulate SOx and NOx emissions. It burns clean, free of sulfur, oxygen, and aromatics with higher energy content. It is sustainable aviation fuel.
Collaborations
MASH Biotech Collaborates with DFDS
MASH Biotech specializes in taking waste resources and turning them into valuable and sustainable commodities such as electricity, biofuels, and fertilizers. While DFDS provides ferry and transport services in Europe. It is the busiest shipping company of its kind in Northern Europe and one of the busiest in Europe.
DFDS together with Mash Energy is developing an alternative to fossil fuels. The biofuel is CO2 neutral and can be used in ships. In addition, the residual product is an effective fertilizer and will also contribute to reducing the CO2 balance.
According to DFDS, the investment supports the company's corporate social responsibility (CSR) strategy of which a key ambition is to contribute to improving air quality.
Neste and Lufthansa collaborate for a more sustainable aviation
NESTE creates solutions for combating climate change and accelerating a shift to a circular economy. It is the world's leading producer of renewable diesel and sustainable aviation fuel, developing chemical recycling to combat the plastic waste challenge.
Lufthansa (Germany, 1953) is one of the world's largest and most prestigious airlines. With hubs in Frankfurt and Munich, it currently flies to 211 destinations in 74 countries.
Neste and Lufthansa in 2019 strengthened their collaboration regarding the development of renewable solutions for aviation. As part of the collaboration, Lufthansa will use Neste's sustainable aviation fuel, blended with fossil jet fuel on flights departing from Frankfurt.
Neste's sustainable aviation fuel is produced from renewable waste and residue raw materials. Over the lifecycle including the impact of logistics, sustainable aviation fuel has up to 80% smaller carbon footprint compared to fossil jet fuel. It is fully compatible with the existing jet engine technology and fuel distribution infrastructure when blended with fossil jet fuel.
Neste and Lufthansa collaborate and aim for more sustainable aviation. Neste (Finland) and Lufthansa (Germany) in 2019 strengthened their collaboration regarding the development of renewable solutions for aviation. As part of the collaboration, Lufthansa will use Neste's sustainable aviation fuel, blended with fossil jet fuel on flights departing from Frankfurt.
Report on Startups In Biofuel Production

Optima (United States), innovative low-cost solutions to reduce the environmental impact of transportation fuel. They provide desulfurization solutions that produce low-sulphur fuel oil for ships.

Good Fuel (Netherlands), produces second-generation sustainable biofuels from certified feedstock that is either waste or residue.

Paterson Energy (India), offers a high-grade diesel variant converting plastic waste to fuel oil and carbon black
Market Research Methodology
The sustainable aviation fuel market size is projected to grow from an estimated USD 66 million in 2020 to USD 15,307 million by 2030, at a CAGR of 72.4% during the forecast period.
Comprehensive work by the following companies is done in Biofuel Manufacturing Technology
Fischer Tropsch Synthetic Paraffinic Kerosene (FT-SPK)
Synthetic Iso-paraffin from Fermented Hydroprocessed Sugar (HFS-SIP)
Fischer Tropsch (FT) Synthetic Paraffinic Kerosene with Aromatics (FT-SPK/A)
Alcohol to Jet SPK (ATJ-SPK)
Catalytic Hydrothermolysis Jet (CHJ
Driving factors
Commercial Aviation
Military Aviation
Business & General Aviation
Unmanned Aerial Vehicle
Ships
Marine ships
Key Players (Biofuel Production)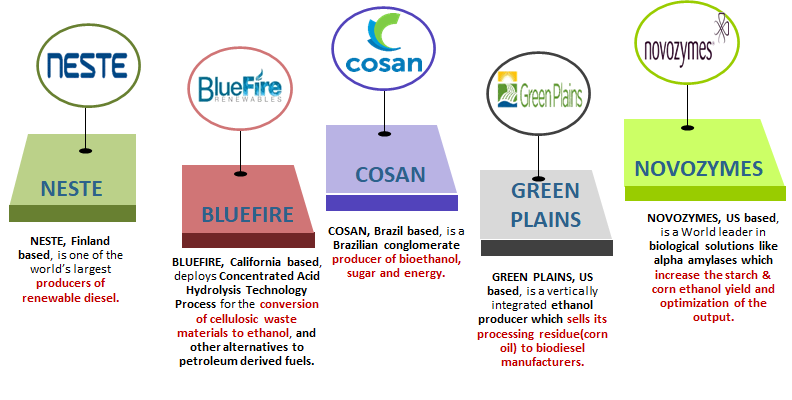 ---
Recent Reports