The report will shed light on the Innovative technologies, patent landscape, open innovation, and competitor analysis of the Chocolate & Chewing Gum industry.
---
Chocolate is the most widely-consumed sweet treat in the world. The higher the intake of chocolate less is the associated risk of future cardiovascular events. The higher the cocoa content, the more benefits it offers. Eating chocolate can trigger a release of serotonin within the brain, which contributes to the pleasurable experience. Cocoa, which is used to make chocolate, provides phytochemicals.
Studies have revealed that threshold amounts of dark chocolate rich in cacao could improve the process of glucose metabolism. Further, chocolate rich in flavonoids especially, epicatechin and quercetin, are believed to be responsible for the cancer-fighting properties.
The sugar alcohols used to sweeten sugar-free gum have a laxative effect. Chewing lots of sugar-free gum could cause digestive distress. Chewing gum sweetened with sugar can cause tooth decay. One recent review found a link between regularly chewing gum, migraines, and tension in people prone to these conditions. It also helps one quit smoking & in gut recovery after surgery.
Technology Research: Chocolate & Chewing Gum
Innovations in Chewing Gum
Research done by Smith A.P. (2016) at Cardiff University, UK, unveils that regular chewing of gum is associated with stress reduction. Chewing gum inhibits the propagation of stress-related information in the brain and reduces feelings of stress. Further, it is suggested that it may be a cost-effective and simple method for reducing stress and improving life quality.
A patent by Roquette Freres, FR, EP2981176B1, unveils a chewing gum composition that is Non-cariogenic (means non-tooth decaying) with the improved property of crispiness. The said composition comprises a non-cariogenic component that is carbohydrate like xylose/xylitol/polyols, gum base, flavor, and sugar-free coating. Additionally, it talks about the method of manufacturing the same.
Innovations in Chocolate
A patent by Mondelez UK Holdings and Services Ltd, GB, AU2008269556C, unveils a chocolate composition comprising of erythritol and sweeteners (maltitol, sucralose, acesulfame-K) along with fat content only 15wt% to 26wt%. Furthermore, the research discloses that the composition is at least 15% less in calories when compared to the standard chocolates.
A patent by New World Enterprizes Inc, CA, US7048941B2, unveils a chocolate-based product that comprises chocolate extract, biogenic amines, amino acids, fatty acids, trace minerals, and methylxanthine alkaloids. Furthermore, the product is used for reducing chocolate cravings and giving nutrition/medicament to humans.
Improved Taste Qualities
Research done by Toker O. S. et al., (2018) at Siirt University, Turkey, worked on white chocolate fortified with EPA/DHA. The EPA/DHA fortified chocolate has surface chocolate that can be used as a carrier of heat-sensitive bioactive substances brightness, blooming, hardness, sweetness, acidity, bitterness, and metallic taste same as of the conventional white chocolates. Also, the white and encapsulation process for bioactive compounds can lead to the production of chocolates with desired quality.
---
Each year Signicent provides consultancy to hundreds of organizations to help transform their innovations to value.
---
Innovative Products in Chocolate & Chewing gum Industry
This report will take you through the patents, innovative products, global companies working in the Chocolate and & cocoa Industry. Additionally, Technology Scouting & Open Innovation and market trends have been reflected upon. Contact Signicent to find the core technical reasons and solutions.
Rich Dark, Australia: Rich Dark is deliciously rich, 99% sugar-free dark chocolate with 70% cocoa, Natural antioxidants, No artificial colors, flavors, or preservatives.
ZonePerfect Protein Bar, US: ZonePerfect Protein Bars have sufficient protein to keep the body feel full until your next meal. It is loaded with essential vitamins and minerals.
Peelu Co. Chewing Gum, US: Peppermint Blast, Gluten-Free, Dairy Free, Yeast Free chewing gum.
Lotte Xylitol gums, South Korea: Sugar-free and aspartame-free gum. It contains Xylitol, which has an antibacterial property against the development of caries.
Global Companies in Chocolate & Chewing gum Industry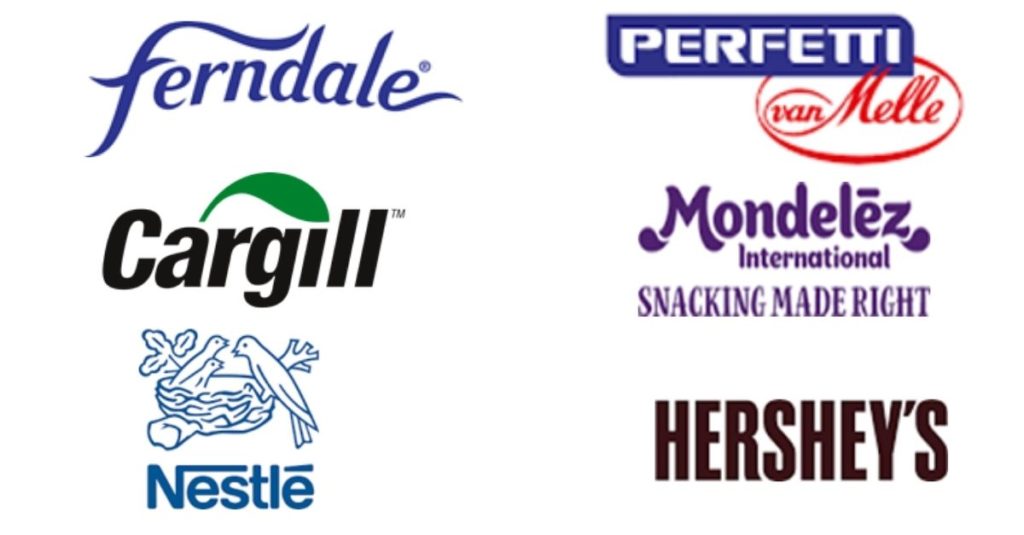 Global Market Trends
The Global Chocolate Market size is expected to reach $171.6 billion by 2026, rising at a market growth of 5.3% CAGR during the forecast period.
The World Cocoa Foundation states that cocoa beans have a consumption value of over 3 million tons every year.
Global Gums (Chewing Gum and Bubble Gum) Market to Reach US$38. 6 Billion by the Year 2027.
Amid the COVID-19 crisis, the global market for Gums (Chewing Gum and Bubble Gum) estimated at US$29.
Global gum market is growing at a CAGR of 3.7% over the analysis period 2020-2027.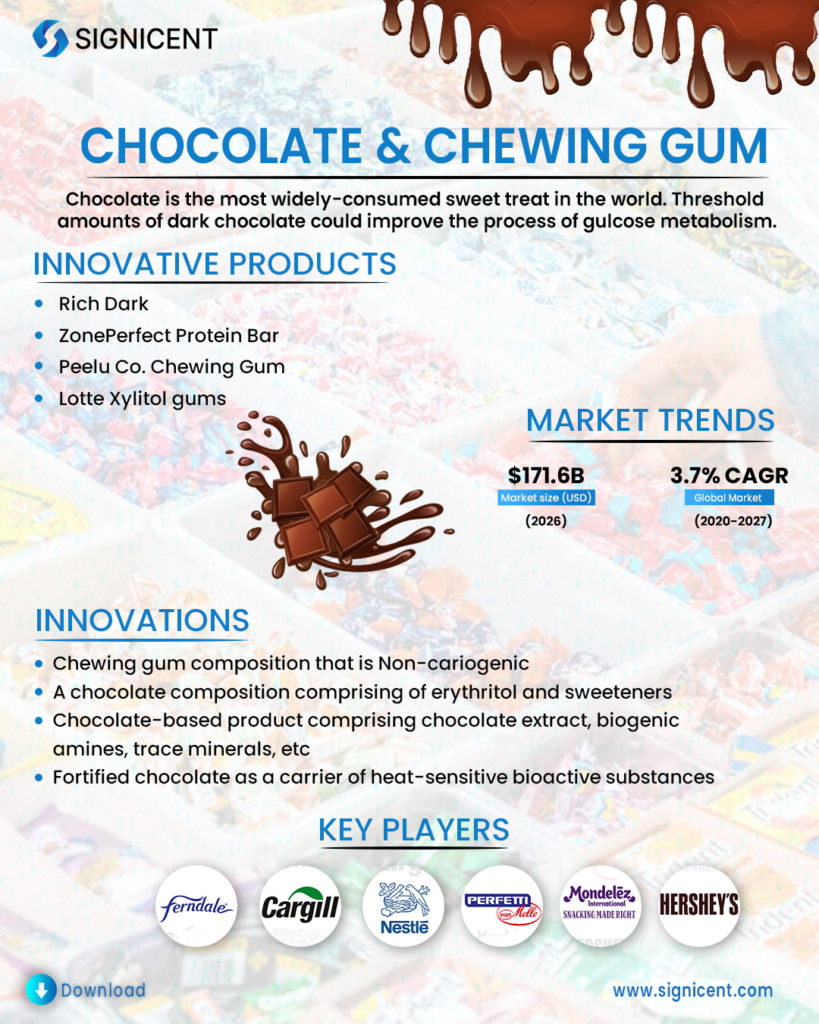 Technology Scouting & Open Innovation
Mondelēz international collaborates with the Israeli food-tech incubator, the kitchen, to lead the future of snacking (April 25, 2019). This collaboration is led by Mondelēz International's R&D and SnackFutures teams, the company's innovation and venture hub aimed at unlocking snacking growth opportunities around the world.
Mondelez to Buy two-bite brownies brand owner (Give & Go Prepared Foods Corp.) for $1.2 Billion. Confectioneries and bakeries are undergoing a tough transition as consumers demand healthier products, including vegan options
Nestlé acquires Zenpep, expanding its medical nutrition business. This move aims to expand the company's medical nutrition business and complement its portfolio of therapeutic products.
Regulatory Authorities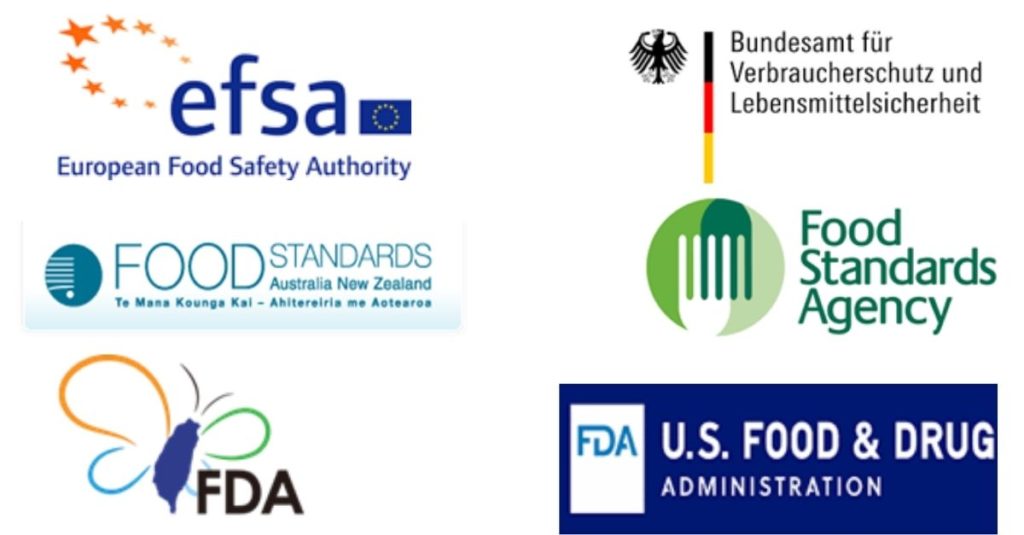 ---
Recent Reports