The dental & orthodontics report will address the challenges experienced by people undergoing the dental procedure and doctors facing technical constraints. We conducted IP, technology and market research to scout innovations in dental and orthodontics healthcare to solve the existing challenges. The competitive aspect of dental & orthodontics health along with future trends, emerging innovations, start-ups, and major players have been discussed in depth.
---
Addressing Technical Constraints in Dental & Orthodontics: Report
In this section of the orthodontics report, the technology constraints are discussed to improvise the technology.
Composite dental restorations are commonly used to restore cavitated carious lesions. Unfortunately, the reason for its failure is the development of secondary caries adjacent to the restoration.
Traditional invisible orthodontic appliance is usually driven by the force behind the invisible braces wrapped on the outside of the teeth when it is used for molar advancement. However, due to the soft material of the braces, the molars lean forward easily when pushing the molar forward.
To improve the long-term survival of restorations, antibacterial agents have been added to dental materials. The antibacterial and bonding capacity of commercial universal dental adhesive incorporated with the antibacterial agent was accessed.
An invisible dental appliance for assisting the advancement of molars; solves the technical problem of forwarding inclination in the molar correction process.
Bioactive Dental Adhesive System With tt-Farnesol
To improve the long-term survival of restorations, antibacterial agents have been added to dental materials. The antibacterial and bonding capacity of a commercial universal dental adhesive incorporated with the antibacterial agent tt-farnesol creating 3 experimental adhesives: 0.38% (v/v), 1.90% (v/v), and 3.80% (v/v), plus a control (no incorporation of tt-farnesol) were accessed.
Bond strengths and Degree of Conversion (DC) decreased with the incorporation of the antibacterial agent into the adhesive system regardless of the concentration of tt-farnesol.
The incorporation of tt-farnesol into the adhesive system significantly reduced bacterial viability and the production of extracellular insoluble polysaccharides (EIP).
The 3.80% (v/v) exhibited the lowest CFU count and lowest production of EIP at day 5; however, bond strengths and degree of conversion have decreased with the incorporation of antibacterial agents.
To overcome white spaces and capture the market, timely technology scouting must be initiated.
Invisible Tooth Corrector for Assisting Molar Advancement
An invisible dental appliance for assisting the advancement of molars; solves the technical problem of forwarding inclination in the molar correction process in the prior art.
The invisible dental appliance can assist the ante displacement of correcting the tooth. It relies on the block of the first auxiliary device and the second auxiliary device.
The centering device is used in a corrector for correcting the early stage as a preferred scheme. It is used for providing front assistance to the advancing molar teeth so that the forward inclination in the advancing process of the molar teeth can be further prevented.
The front side and the rear side of the first auxiliary device and the second auxiliary device are vertically matched so that the stress direction is horizontal. Moreover, the tooth translation is further assisted and inclination is avoided. The device is made of transparent materials and is integrally formed so that the beauty and the firmness of the tooth socket remain unaffected.
Commercial Innovative Products in Dental & Orthodontics: Report
Innovation is the foundation for the expansion of business and aids in capturing the market. Some of the most innovative products in the dental and orthodontics industry as mentioned below.
BracePaste® Adhesive
BracePaste® product by American Orthodontics is a light-curable adhesive designed in a way that minimizes bracket drift and provides efficient clean-up. It provides optimum bonding between metal and ceramic-based brackets. BracePaste® with Fluorescence feature under UV light is provided for enhanced adhesive clean-up upon debond is highly useful.
GC Fuji® BULK
GC Fuji® BULK is featured by GC Australia which is a robust, rapid-setting, multipurpose auto-cure glass ionomer cement (GIC). It provides a unique balance between restoring function and protecting surrounding tooth surfaces from acid challenges. It quickly seals and is ready for final finishing in a few minutes after the start of mix. It is a perfect choice for pediatrics, geriatrics, dry mouth patients, caries-active patients, and exposed root surfaces.
SPARK™ Clear Aligner System
SPARK™ clear aligner system by Ormco Corporation is a recent innovation in aligner system. The TruGEN material with improved force retention, better contact surface area. It is designed for efficient and effective tooth movement. Spark's 3D Approver software gives doctors more control and flexibility for effective and predictable treatment planning.
---
Each year Signicent provides consultancy to hundreds of organizations to help transform their innovations to value.
---
Innovation in Dental And Orthodontics Healthcare: Report
Invisalign is an orthodontic treatment that can be used to achieve a more beautiful smile. Patients who have mild to moderate misalignment can get benefits.
Invisalign can also align the bite. Patients with an overbite, crossbite, or underbite can receive the privilege of Invisalign treatments.
Methodology
The process is done using clear plastic aligner trays to gradually move the teeth into proper alignment. This is done by wearing the trays for at least 20 hours a day. The trays are easily removed, allowing patients to maintain their oral health and wellness, flossing and brushing as they normally would without having to worry about brackets and wires that can make it complicated.
Important Features: These braces are clear and transparent. Also, the movement of the teeth is more precise with Invisalign than traditional braces. Additionally, these aligners are much more comfortable than metal braces. They don't irritate the teeth or gums.
X GUIDE Features
Dynamic 3D Navigation for more accurate dental implant surgery.
X-Guide® is a revolutionary system that extends the capabilities of one's cone-beam system for simplified and more accurate implant procedures.
X-Guide boasts dynamic 3D navigation that delivers interactive, turn-by-turn guidance giving one the ability to improve the precision and accuracy of implant position, angle, and depth.
Featuring the only live, 360-degree single-view of drill position and anatomy during surgery, X-Guide allows one to confidently transfer your 3D treatment plan to the patient, with ease. X-Guide also makes same-day guided surgery a reality for patients – and at just a fraction of the cost of traditional guides.
X Guide provides features such as Confident Planning, Easy Navigation, and Absolute Precision. Our X-Guide system is designed to consistently elevate Precision and Control in dental implant surgeries. Moreover, it's accurate, immediate, and affordable.
To find the innovations & global trends the experts of Signicent can be reached out.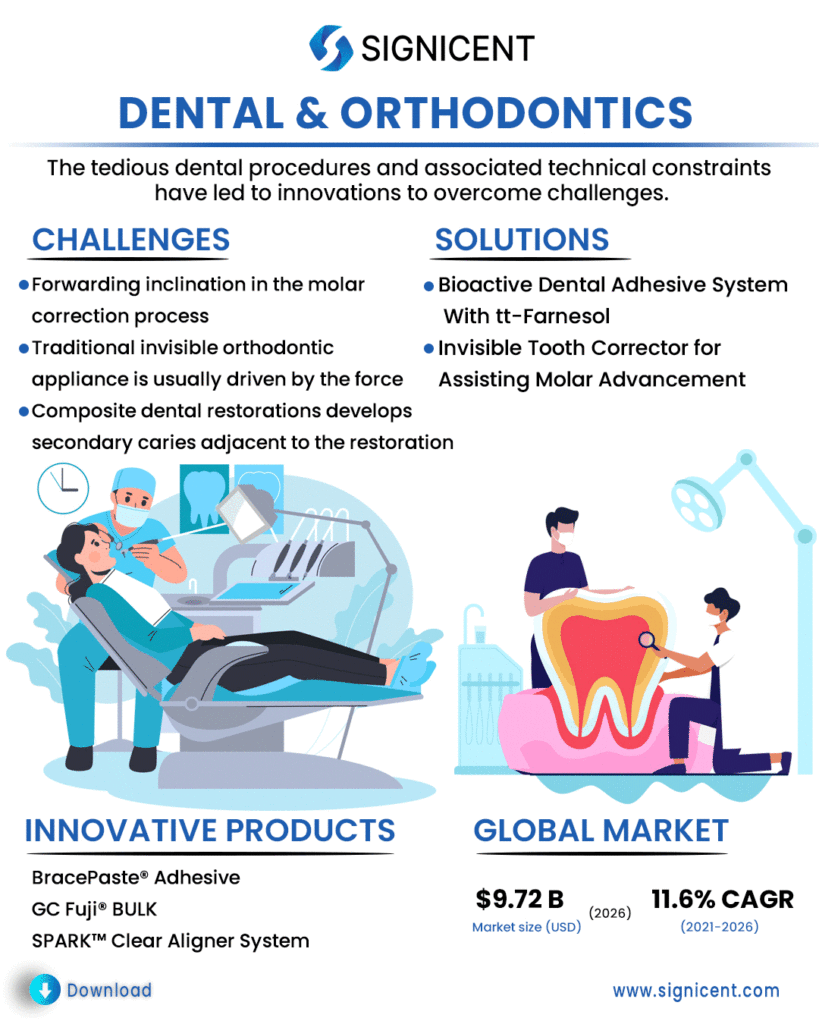 Orthodontics Market Forecast
The orthodontics report discloses information on the Global Orthodontics Market. It is expected to reach USD 9.72 billion by 2026 and is forecasted to register a CAGR of 11.6% during the forecast period(2021-2026).
Growth Driver
The orthodontics report reveals comprehensive information on the market drivers, opportunities associated with the technology of orthodontics, and underlying factors
Increasing demand for oral care from the geriatric and pediatric populations is the leading driver for the orthodontics market, with a high rate of dental disorder occurrence.
Restraint
Side effects like root resorption, uneven teeth coloration due to braces, after orthodontic treatment.
Opportunities
Sudden Upsurge in the cosmetic dentistry industry boosts orthodontics market opportunities which are evaluated to grow at a CAGR of 8.05% during the forecast period 2019-2025.
Geographies Covered
North America, Europe and Asia-Pacific, South America, the Middle East, and Africa are covered in the orthodontics report. North America is a global leader in the orthodontics market with advancements in technological innovations, increased awareness about the value of smiling, increasing per capita income, and colossal investment by the government for spreading awareness on the importance of oral hygiene.
Competitive Analysis
Biolase, Inc. is a medical device company and global market leader in the manufacturing and marketing of proprietary dental laser systems that enable dentists and dental specialists to perform a broad range of minimally invasive dental procedures, including cosmetic, restorative, and surgical applications.
EdgeEndo® is dedicated to the pursuit of bringing leading-edge products to the industry. They sell directly to dental professionals while keeping their commitment to being twice as good, at half the cost.
Biolase (US) and EdgeEndo (US) have been collaborated to develop EdgePRO, which is a next-generation laser-assisted microfluidic irrigation device for endodontists. This technology improves debridement, cleaning, and disinfection up to 99% and removes smear layer and biofilms using the most advanced laser light sound technology with traditional irrigation solutions.
Startups In the Dental & Orthodontics Industry: Report
In this section of the orthodontics report, the start-ups that have flourished and affected the market significantly have been discussed.
SouSmile is Latin America-based startup which was founded in 2018. They developed a dental technology to align and whiten the teeth. They utilize a digitally powered device that captures images of the patient's dental arch, with a scanner and a panoramic x-ray and produces invisible aligners based on the images.
SoftSmile was founded in 2019 and has headquarters in New York, United States. It has developed a digital treatment planning software which is by doctors and for doctors. This technology includes machine-learning algorithms to design the most optimal treatment for patients.
Confocal Imaging Technology
iTero Element is an intraoral scanner manufactured by Align Technology Inc. employing the use of Confocal Imaging Technology using optical and laser scanning for precisely detecting color change.
Recently a new version of iTero software 2.0 is launched with a faster scanning rate, better visualization, etc. with an iTero Element 5D imaging system with an auto-upload feature.
Features
Quick scanning, Better resolution, improved patient communication tools, better efficiency, better diagnosis. Auto-upload, Intra-oral color scan images.
The patent in-vivo, 3D model of intraoral scanner for tooth diagnosis with at least one image sensor and light sources to identify lesions, cavities, etc. in teeth.
Damon Ultima System
Ormco corporation has launched Damon Ultima System is designed by Ormco Corporation (a company leading in providing innovative solutions in Orthodontics) to resolve the problems of wire-bracket slop issues faced by Orthodontists.
Danone Ultima™ is a completely re-engineered, patented technology employing self-ligating braces-based technology with precision control technology employing the use of Damon Ultima wire.
Features
Completely re-engineered and smooth tie-wing, Rotation Control, Angulation Control, Torque Control. §Better door design, Mesh bracket base design, improved pad design, convenient design with Ormco's elastics and auxiliaries durability.
Future Trends In Dental & Orthodontics: Report
Antibacterial Fillings: A new study conducted by scientists at Tel Aviv University revealed that antibacterial fillings can help prevent recurring tooth decay. Strong antibacterial capabilities of the self-assembled building block Fmoc-pentafluoro-L-phenylalanine. Antibacterial nano-assemblies were added to the resin-based composites and this enhanced material could help stop the spread of oral bacteria.
---
Recent Report