Fire in the Blood, is a documentary on "medicine, monopoly and malice." It tells the story of how Western pharmaceutical companies and governments blocked access to low-cost AIDS drugs for the countries of the global south in the years after 1996 – causing ten million or more unnecessary deaths – and the improbable group of people who decided to fight back.
This has raised an important argument that whether patents have created monopoly in life saving drugs and blocked the access to such medicines. Dr. Yusuf K Hamied, Cipla chairperson and 'star' in this film offered HIV medicines at $350 per person per year where as other companies sold the same at $ 15,000 and that has made an international headline. But under the patent laws generic versions of newer patent drugs could not be manufactured.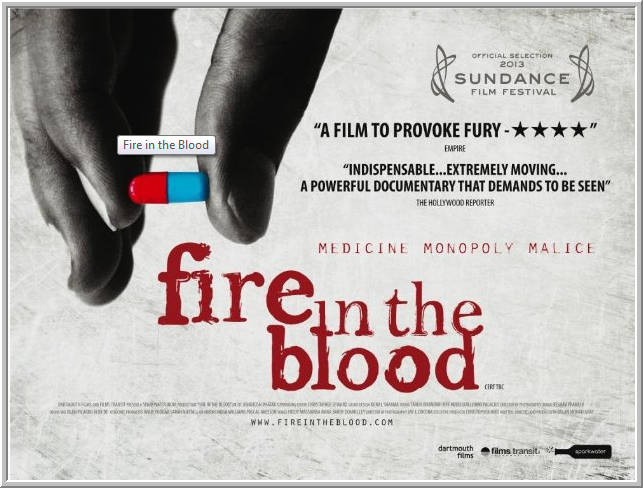 New patent law stated that generic version of new patented medicine could not be manufactured and this blocked its production at low price and according to Dr. Hamied. "India is committing selective genocide in health care." he argues. Though he denied that people lives are sold for traders interest but he definitely accepted that by not giving access to such life saving medicines at an affordable price authorities are playing with their life. If monopoly is created in India the population here won't be able to afford drugs for diseases like cancer and AIDS. He stated an example where 'Atripla' a top selling AIDS drug cost around $20,000 per patient per year in US. But it could be substituted by Cipla's US FDA approved generic drug that is sold in Africa for less than $100 per person per year. Therefore if India would be blocked by the patent then there will be a stop on the supply of cheaper drugs.
Science should not be mixed with development for patents as the research in this field is not accelerated by patenting but making up strategies to extend patents or earn loyalties for the same after its expiry. Though patent system is not unwanted but it should be flexible enough to formulate a pragmatic obligatory licensing system. As in Canada according to which any drug could be copied after giving 4% as loyalty to patent holder. This has already been practiced in countries like Malaysia, Indonesia, Thailand, and Brazil. Also currently 70% of the drugs that are manufactured and marketed by the companies are not the inventor for it. He said, ''I want non-exclusive in-licensing. I want the obligatory licensing system. I don't mind paying royalty.''
According to him soon time would come when a policy would be made stating that there would be no patenting for drugs for diseases like AIDS, TB, Cancer, Malaria etc. only compulsory licensing would be accepted. Showing his concern towards Cipla, he said only unstable companies are acquired by multinationals and Cipla does not lie in that category.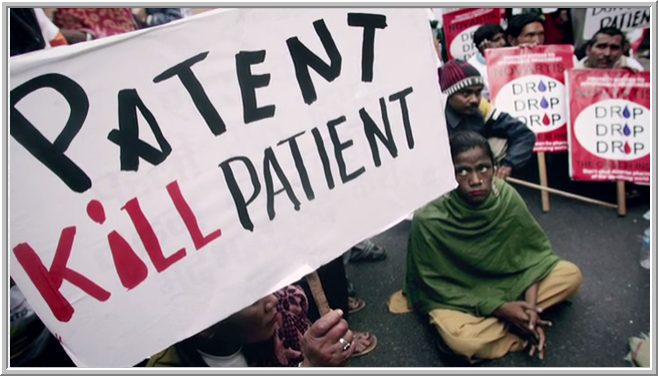 Watch Official Trailer – http://www.youtube.com/watch?v=eVf2UUu_w4o