The report will shed light on the Removal of foul odor from Recycled Plastics. The report discusses the innovative solutions, key players, startups and collaborations in the area.
---
Removal of the foul odor from recycled plastics has lately been realized by the packaging industries across the globe. Extensive research and development are done to give customers the best experience. In order to meet the industry standards and regulatory compliance for recycling packaging waste, novel and innovative technologies are introduced. New markets for recycling are emerging. Industries are looking for assurance to reuse plastic packaging waste as secondary raw materials in high-quality products. Bad odor is the pressing point.
Mechanical Recycling of Plastic Waste
A patent by LEE HYO SULE et al, KR101994313B1, unveils the use of bamboo liquid to the waste plastic water to remove microorganisms that degrade the quality. This bamboo liquid reduces the risk of environmental pollution in wastewater treatment. Further, it discloses an apparatus for producing recycled plastics and a method of manufacturing recycled plastics. Meanwhile, charcoal powder with cooling water can remove the odor remaining in the recycled plastics.

A patent by KBG KUNSTSTOFF BETEILIGUNGEN GMBH, Germany, DE202020104646U1, discloses the recycling of plastic waste for the production of multilayer plastic packaging films. These are based on plastic recyclate (post-consumer plastic recyclates). Additionally having barrier properties against water vapor and gases. Further, it has been specified that Multi-layer plastic film is designed for use as packaging in the form of the outer packaging, hoses, pouches or sachets for soil, fertilizers, mulch, humus, detergents, adhesives, pellets, granules, powders, hygiene articles, household goods.
Problem of Foul Odor in Recycled Plastics
Recycling plastic will ensure that we are heading towards sustainable manufacturing. However, there are still bottlenecks for using recycled plastic. Recycling odor, especially in post-consumer recycling, is an issue both during the recycling process and after when the pellets themselves can carry undesirable odors.
Viable Solution to remove Foul Odor in Recycled Plastics
Post comprehensive analysis of publicly and commercially available information, we came across the following finest solutions to overcome these problems:
The odor can be minimized using Probiotic Bacteria.
The odor and contamination can be minimized using steam stripping and polyethylene glycol (PEG) extraction.
The odor can be minimized using carboxen/ PDMS fiber.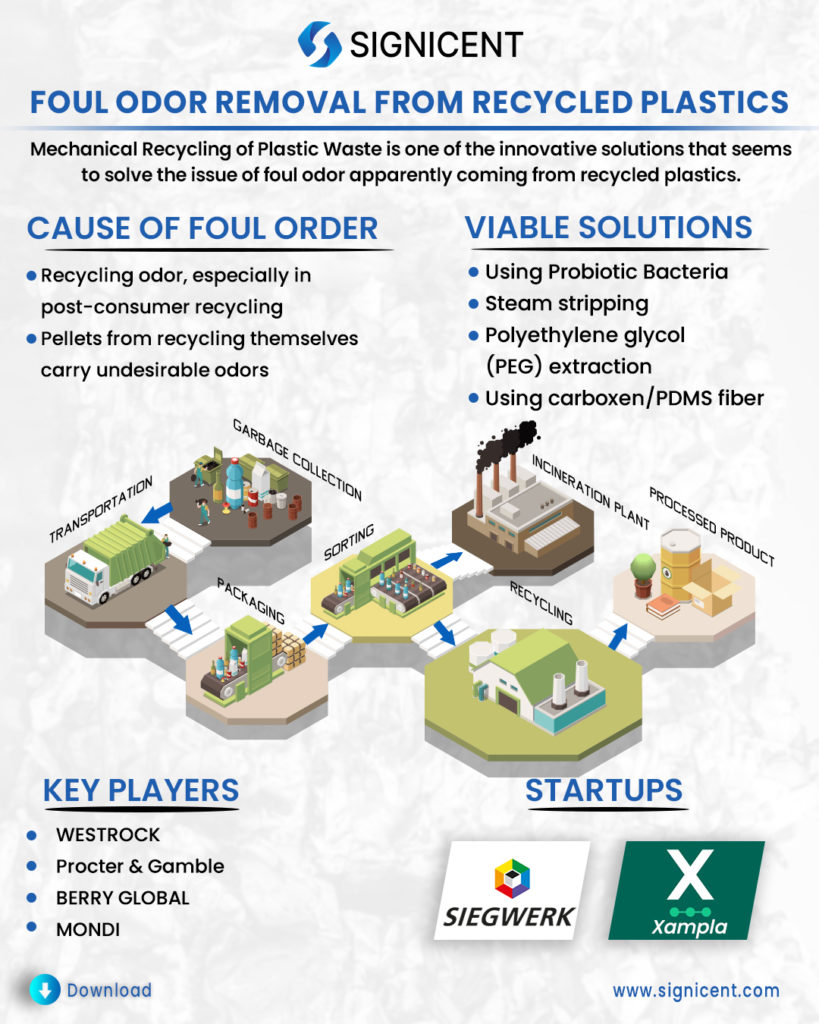 Removal of foul Odor from Recycled Plastics
Removal of volatile organic compounds
Research done by Friedrich-Alexander University Erlangen-Nuremberg, Germany, unveils, the potential odor abatement of malodors in packaging waste through the use of probiotic bacteria. Further, structural elucidation of the causative odorants confirmed a reduction in malodorous microbial metabolites, hence probiotics overcoming the odor burden in post-consumer plastic packaging recyclates. The research also mentions the use of probiotics as a promising alternative solution to odor optimization in plastic packaging recycling.

Research done by The University of Alicante, Spain, unveils on removing Volatile Organic Compounds from post-consumer recycled HDPE through two innovative methods: steam stripping and polyethylene glycol (PEG) extraction.
Steam stripping improved efficiency in reducing the overall VOCs compared to hot air stripping.
The PEG extraction method lowered the volatile polar compounds further than using hot air stripping.
Research is done by The University of Alicante, Spain unveils that upper recycling rates are required to achieve the goal of "zero plastic to landfills" and upgrading the performance in current recycling technology is needed so that contaminants and disagreeable odors are eliminated. Further, it has been explained that carboxen/ PDMS fiber can adsorb the volatile organic compounds (VOCs) emitted from the Plastic waste material with the help of which 85 % of the VOCs content emitted from post-consumer plastic waste was removed.
---
Each year Signicent provides consultancy to hundreds of organizations to help transform their innovations to value.
---
Major Players
WESTROCK, US-based, deals with developments in papermaking, packaging design and retail solutions for beauty and personal care with specialty printing.

Procter & Gamble, US-based, is a consumer goods corporation specializing in personal health/consumer health, personal care and hygiene products.

BERRY GLOBAL, US-based, is a manufacturer and marketer of plastic packaging products for agriculture, forestry and sanitation.

MONDI, VIENNA-based, is the leader in packaging and paper, delighting customers with innovative and sustainable packaging and paper solutions.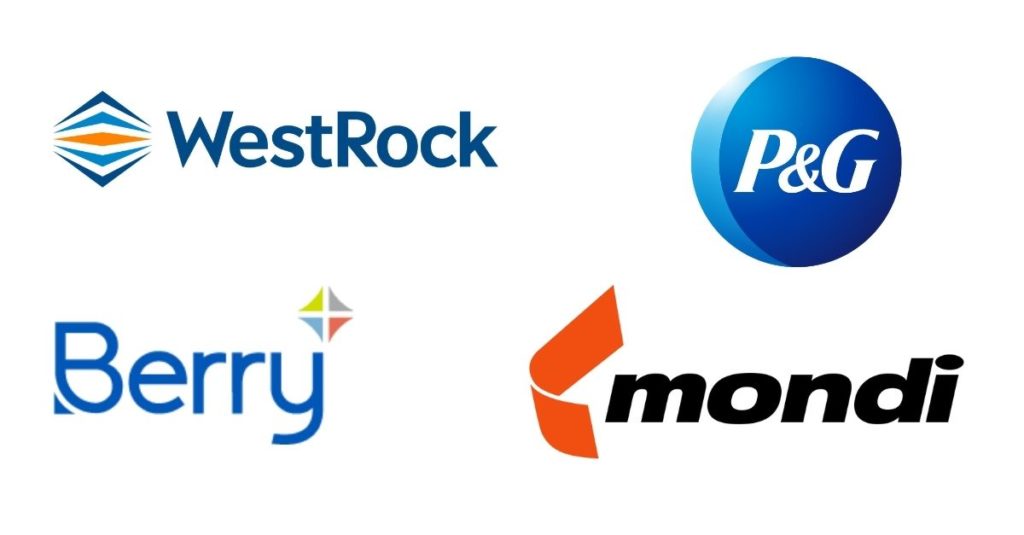 Collaborations & Acquisitions
Borealis AG, Austria-based, is a chemical company that is the world's eighth-largest producer of polyethylene and polypropylene.

Menshen Packaging, USA-based, combines the best of design, technology, and manufacturing to meet packaging needs of home care, personal care, food, beverage, medical, pharmaceutical, and chemicals.

Borealis has collaborated with Menshen in 2020 on a series of ten packaging closures based on Borcycle, a recycling technology that transforms polyolefin-based waste into new, value-adding solutions which are suitable for use in rigid packaging applications for the laundry and home care sectors.

Werner & Mertz, Germany-based, manufactures products in cleaning, care, and conservation products for bulk and private consumers.
Mondi Group, Austria-based, the leader in packaging and paper, delighting customers with innovative and sustainable packaging and paper solutions.

Werner & Mertz has partnered with Mondi Group in 2018 to create the ultimate in consumer-friendly sustainable packaging: The companies have developed a 100% recyclable cleaning product pouch decorated with detachable film panels
Start-ups
Xampla (England), founded in 2018, has created the world's first plant protein material for commercial use and working to replace the everyday single-use plastics, like sachets and flexible packaging films.

Siegwerk (Germany), founded in 2016, is the world's leading company for packaging inks, for applications such as packaging, labels, and catalogs.
COVID-19 Impact
Increase in demand for disposable and flexible packaging.
The surge in antiviral/antimicrobial packaging.
Sustainability agendas may go on a back-burner in the Covid era.
High demand for paper, plastic and foil flexible packaging formats.
---
Recent Reports