The objective of the report is to perform technology scouting on "Innovations in Biologics & Biosimilars". The report covers the following aspects:
Details of innovation/technology advancements focusing on "Innovations in Biologics & Biosimilars" in the areas of Oncology, Immunology, Infectious diseases, etc.
Details about various Clinical trial studies that are associated with the development of biosimilars in various domains of Oncology, Immunology, Infectious diseases, etc.
Companies working with biosimilar development in sectors of Oncology, Immunology, Infectious diseases, etc.
Market strategy and details of mergers/acquisitions happening in the area of "Biosimilars" along with a graphical representation of prominent key players in the area with maximum studies.
---
Problems – Biosimilars
Heterologous expression of serratiopeptidase in E. coli strains shows limited yield and other expression-related issues due to bacterial proteolytic activity such as cytotoxicity, cell death, etc. Hence, there is a need to look for new methods/strains which could produce a high yield of the desired product along with reduced toxicity issues.
In recent decades, there has been a growing demand for specialized biopharmaceuticals along with high importation costs. Specialized biopharmaceuticals include recombinant glycogen which is very costly and has been constantly used in the treatment of hypoglycemia in diabetic patients. Therefore, to meet the growing demand and owing to its high importance, there is a need to develop methods for improved production, purification, and performance of the biological activity of recombinant glucagon.
There is a documented resistance to the current drugs used against herpesviruses and there is no treatment for diseases like Equine viral Arteritis and Feline herpesvirus (FHV-1). Therefore, there is an urgent need to look for new antiviral compounds for overcoming these infections.
Since biologics are derived from living cells, they typically include a complex pattern of impurities that form during all the stages of production. In addition to this, recombinant proteins undergo complex post-translational modifications and changes may not only impact the stability but also an activity that can further cause immunologically adverse reactions.
Problems – Prescription Drugs
Traditional colchicine drug used for the treatment of gout arthritis triggers strong side effects, especially in patients suffering from co-morbidities. Therefore, there is an urgent need to prepare some derivatives of colchicine for diminishing the side effects caused by the traditional one.
Innovative Solutions
With the major advancements in the field of technology, one cannot deny the fact that companies are adopting new technological approaches for making their products/techniques better with time. Further, the innovative approaches assist in expanding the business of the companies thereby offering new market opportunities. This section of the report includes the technological solutions for the above-mentioned challenges.
Solutions – Biosimilars
Biosimilar serratiopeptidase in recombinant E. coli C43(DE3) cells
The study was fully focused on the E. coli-based alternative method for serratiopeptidase production in its pro-peptide-devoid mature form. Expression was carried out in E. coli BL21 C43(DE3) cells which were able to express serratiopeptidase correctly. Further, the protein expression optimization results showed significant enhancement in the production of serratiopeptidase (as potent anti-inflammatory, anti-edemic, analgesic and antibiofilm activity).
Recombinant glucagon production in E. coli: Differential biological activity
Work demonstrated the expression and purification of glucagon peptide from Escherichia coli cells using the pGEX vector system. In vivo assay results showed advanced biological activity for the produced glucagon and were the first study report on efficient glucagon production in Brazil using a bacterial system for meeting the growing demands of high-cost bio-pharmaceuticals.
P34 peptide with antiviral properties from a strain isolated from Brazilian Basin
The study aimed at evaluating the peptide P34-produced by a Bacillus sp. strain isolated from the intestinal contents of a fish in the Brazilian Amazon basin for its in vitro antiviral properties against various kinds of viruses such as feline herpesvirus type 1 (FHV-1), canine coronavirus (CCoV), equine arteritis virus (EAV), etc. Results demonstrated that the peptide showed prominent virucidal activity against the viruses & could be a new antiviral compound for overcoming infections like equine viral arteritis.
Method of increasing bio-similarity of a protein to a reference protein
A cell culture method was used for increasing the bio-similarity of a TNF α binding protein to the reference TNF α binding protein by modifying the charge profile of the binding protein which was produced by cell culturing in a cell culture medium.
Solutions – Prescription Drugs
Novel drug formulation for the treatment of gout arthritis
The study revolved around the production of an alternative novel thiocolchicoside derivative (CCI-001) also called CCI from colchicine. Results demonstrated the potential of the novel compound to treat gout and were found to be highly efficient along with reduced side effects.
---
Each year Signicent provides consultancy to hundreds of organizations to help transform their innovations to value.
---
Market
Signicent's research has found that the global market for Biosimilars is growing at a CAGR of 20.5% during 2022–2027. The market size is projected to reach $72.65 Bn by 2027, from $28.60 Bn in 2022.
Mergers & Acquisitions
This section of the Biologics & Biosimilars report will walk you through the details of mergers & acquisitions happening in this area. Details of such companies and their corresponding reason for strategic involvement have been listed below:
Biocon Biologics acquires biosimilars business of Viatris – 2022
In February 2022, both the companies Biocon Biologics and Viatris signed a definitive agreement for the acquisition under the terms of which Biocon Biologics would stand complete ownership of its biosimilars assets, namely bTrastuzumab, bPegfilgrastim, bBevacizumab, bGlargine, bAspart, bPertuzumab and bGlargine 300U. The acquisition would assist Biocon Biologics in becoming a leader in global biosimilars.
Global Players
This section of the biosimilars report enlists the global players working in the pharmaceutical sector. Johnson & Johnson was found to be the major key player in the global biosimilars market with the maximum number of research studies followed by Astrazeneca. Other key players include Dr. Reddy's Lab Ltd., Pfizer Inc., etc.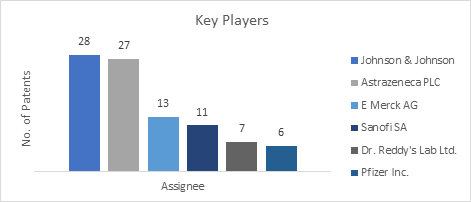 Future Scope
The future of biologics and biosimilars is very promising. Here are some key developments and trends that are shaping the future of biologics and biosimilars:
1. New biosimilars for oncology with increased efficacy and safety which will play an increasingly important role in cancer treatment as patents for existing biologics expire.
2. Biosimilars development for management of inflammatory diseases such as uvetis.
3. New Regulatory guidelines for establishment of standards for approval of biosimilars.
4. Advances in genetic testing and personalized medicine are expected to lead to the development of more targeted biologics and biosimilars that are tailored to the specific needs of individual patients.
---
Recent Report