Liver Cancer Diagnostic Report discusses Artificial Intelligence, Machine learning & robots assisted treatments for Liver Cancer. This will take us through the startups, companies, global trends, methods, challenges with AI, innovative technologies, the liver cancer treatment and diagnosis market & collaborations & Acquisitions.
---
This report has two parts – Liver Cancer diagnostic and treatment by Artificial Intelligence & Robots
Report on Artificial Intelligence & Liver Cancer Treatment
Artificial intelligence in the healthcare industry can aid in enhancing the precision and throughput of diagnostics, selection of therapies, and forecasting outcomes. Machine learning constitutes a subset of artificial intelligence. It utilizes algorithms that adopt modeling functions from datasets. The real problem of the implementation is restricted knowledge amongst the population of AI.
Lucence Diagnostics to Develop AI Tools for Liver Cancer Treatment
Lucence Diagnostics was working on a new project to develop artificial intelligence (AI) algorithms for improving the diagnosis and treatment of liver cancer. The goal is to combine the imaging and molecular data(sequencing data) from liver cancer patients into smarter software tools that help physicians make better treatment decisions.
Liver Tumor Segmentation in CT Scans Using Modified SegNet
The study discloses that liver segmentation and extraction from CT scans is a challenging problem. In this work, a deep learning-based technique was proposed for semantic pixel-wise classification. The architecture of the deep convolutional encoder-decoder is named SegNet. The proposed method correctly detects most parts of the tumor, with accuracy above 86% for tumor classification.
Automatic liver cancer detection using soft optimization techniques
The study discloses automatic liver cancer detection in abdominal liver images using optimization techniques. The new better automatic segmentation technique for liver cancer detection is developed, based on the Region of interest and Adaptive Watershed Algorithm that yields clear dimensions about normal and abnormal segmentation of the cancerous region of the liver.
Method for classifying liver tumors by utilizing CT slice images
The study discloses a method for classifying liver tumors by utilizing CT slice images. The segmentation of the liver, reduces the space range near the tumor image required to be focused by the model and leads to maximize extraction of the image information of the 3-dimensional space so as the more accurate classification can be achieved.
Challenges with AI
There is a highly promising future of AI and robotics in the healthcare sector. Below we have mentioned the most faced challenges associated with the technology:
Security of data: The protection of privacy and security of data is crucial. Personal medical history should be protected and hacking or manipulating the model can be a big problem.
Overfitting: It negatively impacts the performance of the model on new data.
Legal responsibility: Biased AI could affect the outcome of several patients. If the AI models make a wrong decision, who will be held accountable for this result?
Report on Robotic Assisted Liver Cancer Treatment
In this section of the robotic-assisted treatment report, we will talk about the factors that affect diagnosis.
Overfitting negatively impacts the performance of the model on new data. To avoid the overfitting problem, multicentre studies with high-quality datasets to validate the models are required. Some algorithms have built-in feature selection, you can manually improve their generalizability by removing irrelevant input features.
Latest Technologies in Robotic assisted treatment of non-resectable liver tumors
Kinematic Analysis of Two Innovative Medical Instruments for the Robotic Assisted Treatment of Non-resectable Liver Tumors
This study discloses two medical instruments to be used in a robotic system designed for the treatment of non-resectable liver tumors. It further discloses that the medical instruments will target multiple needle insertion and guide an intra-operatory ultrasound probe.
Robots assisted focused ultrasound treatment device
This study discloses a robot-assisted focused ultrasound device for the treatment of liver tumors in which the equipment and computer connections are mentioned. Further, the high precision of the robot has been discussed which turns out to be high intensity focused software linked treatment (highly efficient).
---
Each year Signicent provides consultancy to hundreds of organizations to help transform their innovations to value.
---
Risk Management for the Reliability of Robotic Assisted Treatment of Non-resectable Liver Tumors
This study discloses a robotic system that could achieve a reliable delivery method for targeted treatment with proper safety and efficiency. The design of the robotic system has been described which aims to minimize the medical associated risks. Further, the results lead to the parallel robotic system- HeRo, for the treatment of non-resectable liver tumors.
Key Players: Artificial Intelligence & Robots Assisted Treatment of Liver Cancer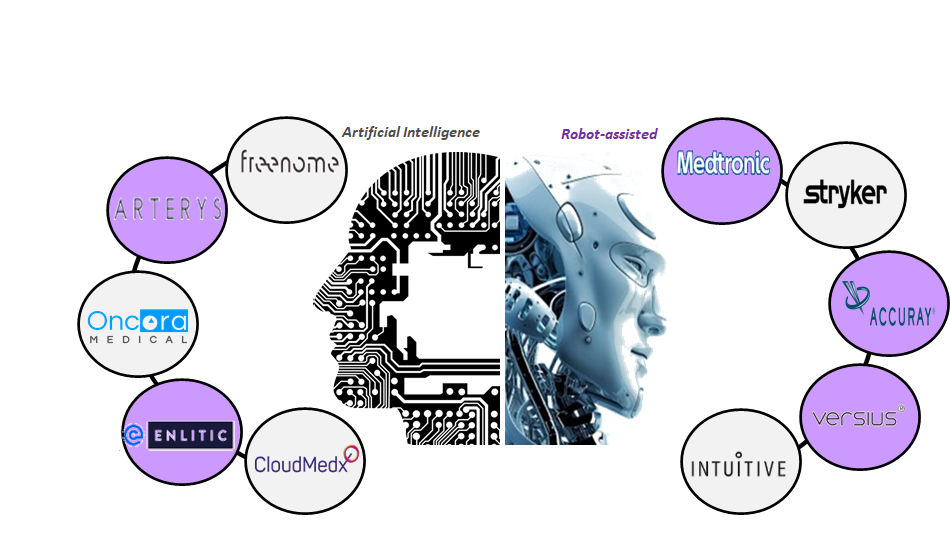 Global Cancer Diagnostic Market
In this section of the robotic-assisted treatment report, information is given on the global diagnostic cancer market.
Cancer Diagnostics Market size valued at over USD 104.8 billion in 2019 and is expected to grow at 8.5% CAGR between 2020 and 2026. The Diagnostics Imaging market is valued at USD 25.7 Billion in 2019 and is projected to grow at a CAGR of 5.5% reaching 33.5 USD Billion by 2024. The imaging segment accounted for a cancer diagnostics market share of 65% in 2019.
Liver Cancer Diagnostic Market – Artificial Intelligence & Robots Assisted Diagnosis
The global liver cancer diagnostics market worth is anticipated from USD 9.8 billion in 2019 to around USD 15.2 billion by 2026 and will develop with 8.3% CAGR during the forecast time period.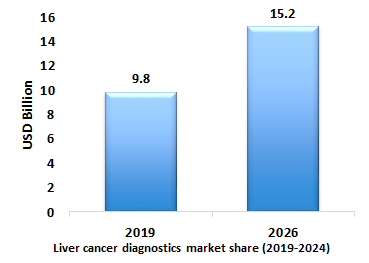 The radiotherapy market is projected to grow from an estimated USD 5.6 billion in 2018 to USD 6.8 billion by 2023, at a CAGR of 4.1% during the forecast period.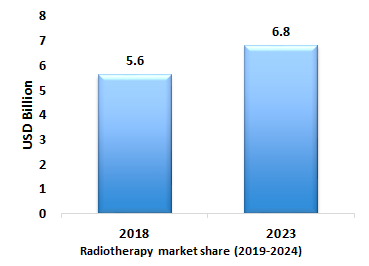 Global Medical Robots Market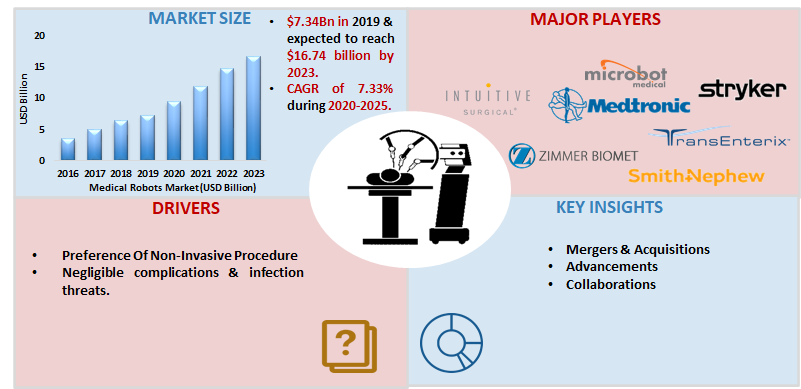 Start-ups (Software based companies)
Nucleai founded in 2017, is developing an AI-powered precision oncology platform in Israel that leverages unique tissue datasets to produce insights into cancer biology, increasing clinical trial efficacy and improving patient care.
Founded in 2017, Ezra uses a full-body MRI, along with artificial intelligence, to detect any abnormalities or potential problems during cancer screenings in just one hour.
Founded in 2014, Zebra Medical Vision uses Image Analysis Engine which receives imaging scans and analyzes them for several different clinical findings along with machine and deep learning tools, to create software that analyzes data in real-time.
Founded in 2014, Proscia uses AI, machine learning, and high-performance computing to diagnose Cancer with improved accuracy and speed.
Start-ups (Robots for Therapeutics)
Auris Health, US-based, is the developer of robotic microsurgical devices designed for ophthalmic procedures that help diagnose cancer using controllers.
AVRA, US-based, is designing a novel computer-integrated, semi/autonomous surgical robotic platform that is truly disruptive.
Avateramedical, Germany-based, develop a system for Robot-Assisted minimally invasive surgery. Its mission is to provide access to robot-assisted, minimally invasive surgical procedures worldwide.
Corindus, US-based, designs, manufactures and commercializes remote robotic systems for interventional procedures.
Artificial Intelligence & Robots for Liver Cancer & Therapeutics
IMRCanada-based is an intraoperative imaging expert. It assists in patient outcomes through planning, product integration, and clinical workflow to give surgeons access to diagnostic quality scans in operating room suites. In 2011, the company announced it was developing an MRI-compatible image-guided surgical robot specifically designed for minimally invasive neurosurgery.
Activ Surgical, US-based, is building a hardware-agnostic platform to enable autonomous and collaborative surgery through the integration of computer vision, artificial intelligence, and robotics.
CMR Surgical, UK-based, provides a robotics solution to bringing minimal access surgery to more people. Using laser technologies with AI.
Collaborations & Acquisitions (AI) – Liver Cancer Treatment using Artificial Intelligence & Robots
Gallipoli Medical Research Foundation (GMRAustralia-based based, is committed to enhancing health through the translation of innovative medical research. The University of Queensland Diamantina Institute (UQDAustralia-based based, is a research facility where clinical and basic science converge in the translational research of cancer, immunology, and genomic medicine.
Dr. Liang is developing a biopsy model to predict a patient's response to liver cancer treatment, enabling clinicians to identify the most effective treatment for a particular patient earlier. The model would also reduce side effects as it would help identify the smallest doses possible with maximum effect.
Regulatory Authorities: Liver Cancer Artificial Intelligence & Robots Assisted Treatment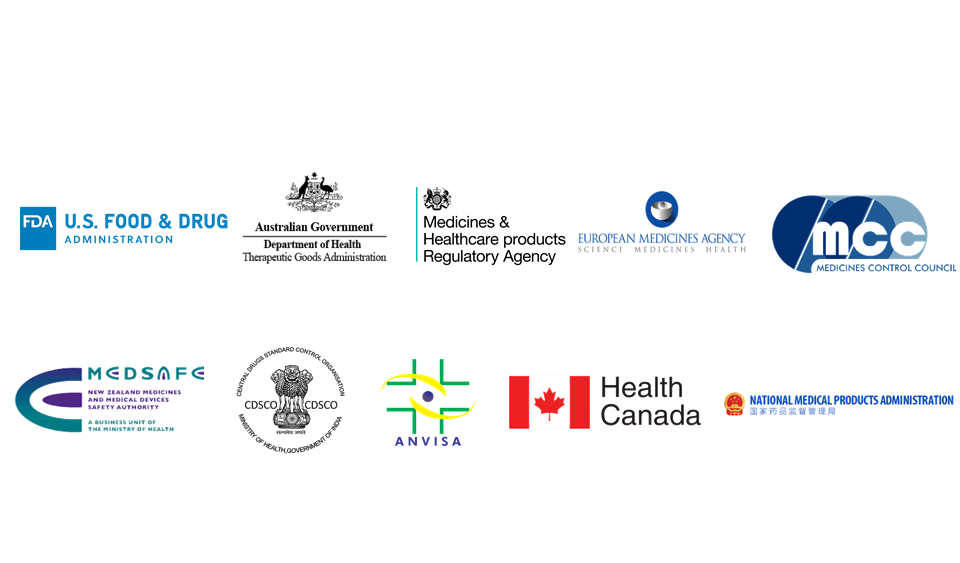 Recent Reports