The Medical Waste Treatment Report will explore the challenges associated with biomedical waste, emerging, novel, and innovative technologies in the field of "Medical Waste Treatment". Also, the report covers key players and companies that are aggressively working in medical waste management. Furthermore, the devices and equipment that can simplify the process of medical waste management have been comprehensively discussed.
---
Disposing of Medical Waste
Steps in properly disposing of biomedical waste include the following steps :
Incineration: A process to treat waste products which include combustion of substances, coverts waste in ash & heat.
Chemical Disinfection: The process of biomedical waste kills microorganisms in medical waste, the best way to treat liquid medical waste.
Autoclaving: Another way of killing microbes under steam, moisture, heat, and pressure.
Microwave Irradiation: Treatment using a heat source works when the waste consists of water, radiations works directly on water instead of solid waste.
Inertization: Inertization, or inerting, is an explosion protection process that uses inert gas to prevent the formation of an explosive mixture.
Microwave Irradiation: Treatment using a heat source works when the waste consists of water, radiations works directly on water instead of solid waste.

Challenges with Medical Waste
Wildlife and Pharmaceuticals
Biohazard waste that is not disposed of properly can end up in lakes, parks, and other wildlife habitats. According to research, wildlife is attracted to the fragrance and color of pills and liquid medicine. This curiosity results in the digestion of medication, which can injure or even kill the animal.
Groundwater Contamination
Most of the landfills are built with a special lining so that the nearby soil and groundwater cannot become contaminated. However, mishandled biohazard waste can annihilate even the best landfill design. Syringes and other sharp objects can easily rip the lining.
Radioactive Pollution
To accurately diagnose the patients, doctors sometimes use radioactive tools. If disposed of improperly, radioactivity can enter landfills and other areas. These substances emit particles that are dangerous to people. Excessive exposure to radioactivity can result in serious diseases.
Airborne Pollutants
Certain medical waste can be destroyed by incineration. But, if not ignited properly, pollutants can be worse than land-based types because they can spread far and wide quickly. Biohazard waste models serious risks and must be handled and disposed of properly.
Medical Waste Treatment Apparatus
In this section of the medical waste treatment report, the problems associated with degradation, dumping, and decomposition have been discussed and analyzed by experts of Signicent. Also, the harmful effect on the environment has been talked about.
Sanitary landfilling may lead to further risk of environmental contamination by the subsequent leak of a hazardous substance.
The high-temperature and high-pressure steam sterilization methods are not capable of treating low radiological waste, organic solvents, chemotherapeutic waste, pharmacological waste, and pathological waste. It is technically possible to treat small quantities of waste but may have the potential for safety risk.
Mechanical-chemical treatment methods may lead to collateral contamination and it is difficult to determine the disinfection effect. Furthermore, volatile organic compounds, chemical agents, mercury, and radiological waste should not be treated in this way.
The Microwave treatment method is not capable of treating pathological waste.
Incineration may produce collateral pollutants, especially Dioxin which could not be found in nature originally.
Plasma pyrolysis is a developing subclass of high-temperature incineration with a complex process system with a cost that is three times higher than that of typical incineration technology.
The standard of plasma pyrolysis has not been well established and the requirement for operation is stringent. The wide application of plasma pyrolysis remains to be seen in the future.
Environment-Friendly Apparatus
In this section of the medical waste treatment report, innovative solutions have been discussed that are environmentally friendly and promote sustainability.
The medical waste treatment device could automatically identify and classify waste containers, and treat medical waste according to its category, and then package and seal it.
The device treats the waste under high-temperature, high-pressure shredding and resolving into each waste disposal box separate for plastic material, glass, metal & pathological waste, pharmaceutical waste, and chemical waste.
Avoid the collateral contamination caused by incineration, and further, avoid the production of Dioxin.
Process for Segregating the Waste Materials
Classifying and packaging medical waste into a waste container. Then attaching a label onto the waste container according to the category of the medical waste within.
Placing the waste container on a feeding conveyor belt and transferring the waste container to the position above waste disposal boxes by the feeding conveyor belt.
Scanning and identifying the label on the waste container by a waste label identification component. Determining the one waste disposal box to be used for treatment according to the identification result and actuating a pushing device corresponding to the elected waste disposal box to push the waste container forward into feeding access of the elected waste disposal box. The pressure sensor is arranged on each of the branch conveyor belts.
Actuating a corresponding high-temperature high-pressure shredding device by the central controller to resolve the medical waste.
Discharging the treated waste into a bag below discharging access of the elected waste disposal box. Weigh the bag with a pressure sensor then seal the bag with an automatic sealing component. Transfer the bag via a branch conveyor belt to a major conveyor belt, and then to the outside.
Bio-Medical Waste Management
In this section of the medical waste treatment report, innovative products and companies are enlisted.
OptiMaser®
"OptiMaser's™ Microwave technology is recommended by WHO as the lowest operating cost solution for biohazardous waste management. OptiMaser® is a true and revolutionary invention in the field of medical waste management. It is the best product out in the market ready to address the very serious issue of the bio-medical waste management
ECODAS T2000
Using gravity, the processed material drop into the lower treatment chamber, where every particle is steam heated to 138°C (280 F) and pressurized to 3,5 bar (51 psi) for 10 minutes. The operating and treatment conditions are continuously monitored and validated to achieve complete sterilization (Microbial inactivation = 108).
PROMED P2000
Vertisa develops complete medical waste sterilization-related solutions for hospitals, clinics, and industrial size medical waste treatment facilities in general. "Non-burn technology" for Point of Generation (POG) disinfection & sterilization of bio-medical waste, unlike conventional technologies.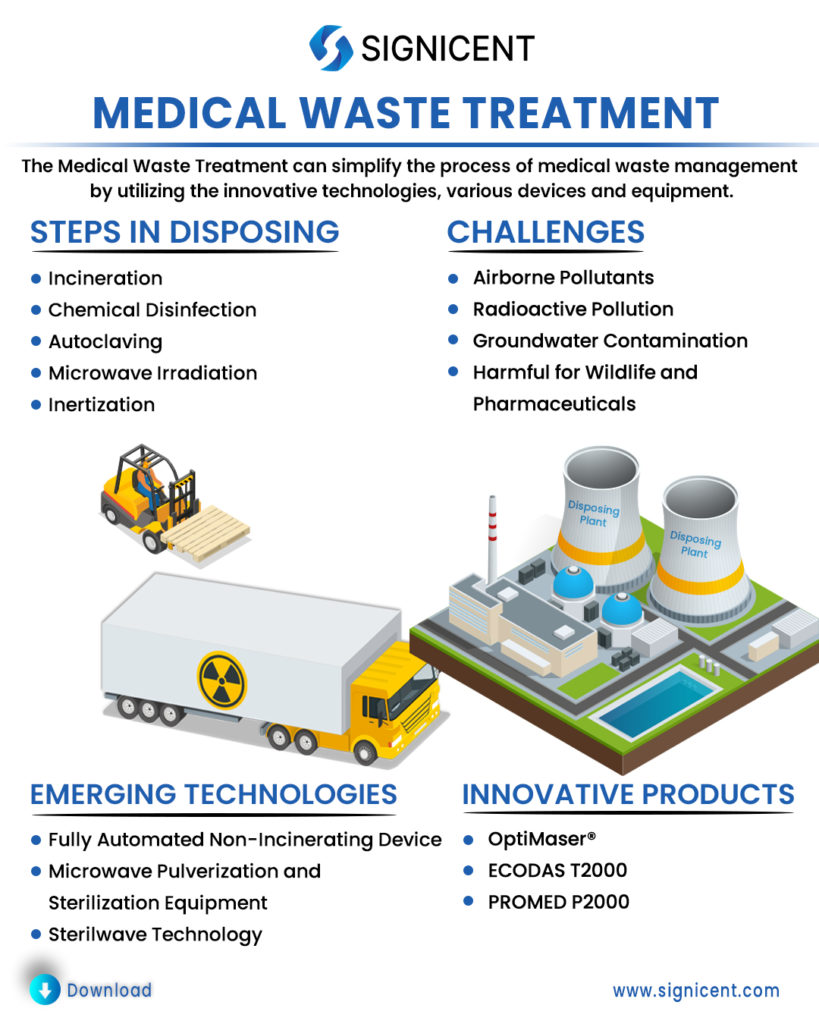 Fully Automated Non-Incinerating Medical Waste Treatment Device
The desktop mountable device contains electronic, electromechanical, and made-up mechanical assemblies for independent thermal processing of one to four containers of medical waste. The thermal chamber is capable of receiving a single container of medical waste for said independent thermal processing. A thermal process for sterilization of up to two medical waste containers holding bacterial and/or viral biohazardous medical waste in a device.
Four containers of medical waste at a maximum temperature of between about 300° F. to about 425° F for about 60 minutes to about 90 minutes, after which the heater for the chamber is automatically turned off.
One or more exhaust tubes connected in the top portion of each thermal chamber are then allowed for vending of gaseous and liquid byproducts generated by the independent thermal processing.
One UV system is fitted to each gaseous byproducts tube to allow for the sterilization of gaseous byproducts generated during the independent thermal processing of the container of medical waste before vending from the device.
The latched or locked lid is automatically unlatched or unlocked to allow for the safe removal and disposal by the user of the thermally processed medical waste container containing the sterilized biohazardous medical waste. Two thermal chambers can receive containers of medical waste in the range of about 1 pint to about 4 gallons (BERKELEY CHARLES R [US]; SCOTT COURTNEY E [US].
---
Each year Signicent provides consultancy to hundreds of organizations to help transform their innovations to value.
---
Low-temperature and Microwave Synergistic Crushing and Sterilizing Equipment
Technical Institute of Physics and Chemistry of CAS has a low-temperature cooperative microwave pulverization and sterilization equipment. It is characterized in that it includes a low-temperature pulverization and sterilization system and a microwave sterilization system.
The materials (Medical waste) to be processed are crushed in the low-temperature environment of the pulverization and sterilization subsystem and then enter the microwave sterilization system.
The pulverization and sterilization subsystem includes a pre-cooler, a pulverizer, and a separator. The low-temperature fluid outlet of the pre-cooler, the pulverize, and the separator are connected in sequence, and the low-temperature subsystem includes a cold source generator and a low-temperature recovery device.
An exhaust gas treatment system, includes an induced draft fan filter, a condenser, a deodorizer, and an exhaust gas Fan, the induced draft fan filter is connected to the exhaust outlet of the conveyor, the induced draft fan filter, condenser, deodorizer, and induced draft fan are connected in sequence, and the deodorizer is also connected to the exhaust outlet of the humidifier.
The utility model provides a piece of sterilization equipment that is smashed in a low-temperature microwave in coordination, can high-efficiency breakage, effective sterilization, reduce cost, solve the hidden danger that high-temperature process exists.
Sterilwave Technology (Efficient microwave technology)
Based on innovative technology which combines grinding with microwave sterilization, Sterilwave machines are ultracompact and completely automated. Sterilwave is available in 3 different processing sizes (20, 50, and 70 kg/h), depending on facility requirements and facility waste production.
Sterilwave 100
Sterilwave 100 is particularly suited to medical facilities generating only small amounts of waste. The biomedical waste management system can treat 200 L/h (up to 20 kg/h, with a density of 1 L = 0.1 kg) of waste. It is ultracompact and comes in a mobile version, for use in a container for example. The average cycle time is 30 min.
Supplier Medical Waste Treatment System
Gient, founded in 1995, is the leading supplier of medical waste treatment systems in China. We aim to provide the clients with comprehensive medical waste treatment solutions, a one-stop supply, and high-quality products with the latest technology.
Gient medical waste treatment systems are running successfully in Asia, North and South America, Europe, and Africa.
Devices:
Centralized medical waste autoclave
Integrated autoclave with Shredder
Mobile Unit
Medical Waste Shredder
Medical Waste Containers
Medical Waste Container Washer
ISO compliance: Gient complies with ISO 9001, ISO 14001, ISO18001, which govern our businesses and operations committed to quality, environmental protection, and protecting the health and safety of personals.
Medical Waste Management Startup
In this section of the medical waste treatment report the startups working in the medical waste treatment.
Italian startup re3CUBE manufactures CRUMBLE, a line of Internet of Things (IoT) waste management devices with built-in sanitary waste sterilizers. The devices work by automatically shredding and sterilizing waste such as gauze, cotton, gloves, vials, scalpels, needles, biological material, glasses, and paper. Their devices reduce the overall cost of waste management for healthcare institutions. Moreover, it provides safety assurance for waste collection and disposal operators by issuing sterilization certificates.
US-based startup Polycarbin develops a resource management platform to recycle plastic waste generated from laboratories. Carbin enables medical and life science laboratories to sort rigid plastics into a clear stream and non-clear stream. The accompanying mobile app allows users to request a pick-up, and track and measure the recycling process. Polycarbin's solution reduces the amount of medical waste generated by recycling plastics and quantifies the carbon footprint reduction for laboratories.
---
Recent Report