The nail care report explores and identifies various innovations in the nail salons industry. Key emerging companies working in nail care, along with major collaborations and startups emerging with innovative technologies. Moreover, some light is shed on key innovation areas like the use of AI.
---
As consumers are becoming aware of the environmental and health effects of components used in nail paints, more emphasis has been put on innovations in the composition of the product like replacing phthalates, toluene, and other toxic chemicals from the product.
The experts of Signicent will shed light on the following sections:
Key Challenges faced due to existing Nail Care products
Recent technology scouting and innovative products of the Nail industry
Competitive Perspective
Market Analysis of Nail care industry with competitor analysis
Regulatory Authorities
Future insights
Nail polish also called nail enamel or nail varnish is a viscous lacquer that is applied on the surface of the nail plate of fingernails and toenails. It is one of the most widely used cosmetics throughout the world. The use of nail paints can be traced back to 3000 B.C. when the Chinese and Egyptian women used an "herbal-concoction" made of egg-white, gelatin, beeswax, gum Arabic, and vegetable dyes (like henna or mashed rose) to embellish their nails. Nitrocellulose is the main film-forming agent in nail lacquer, which along with ensures the adhesion of the nail paint to the surface of the nail plate.
Nail Salon Industry
Nail care includes manicures, nail treatments like repairing, anti-breaking, hydrating, nourishing therapies, etc. Moisturizers constitute an important part of nail care. Moisturizing agents are also used in nail care composition which includes glycerin, petrolatum, beeswax, mineral oils, natural oils (almond, avocado, jojoba, and sunflower), waxes (cetyl alcohol, stearyl alcohol, and beeswax), and humectants (aloe vera, ceramides, and glycerin).
Constituents of nail polish
Film-forming agent
Plasticizers
Adhesive polymer resins
Dyes and pigments
Opalescent pigments
Thickening agents
Ultraviolet stabilizers
Key Challenges In Nail Care
In this section of the nail care report the challenges, as well as the problems associated with the same, are discussed. Due to the increased sense of fashion in customers, the nail salons industry is growing tremendously. Due to ever-increasing competition companies are doing extensive innovations in natural ingredients, recycling, artificial intelligence, at-home nail care, etc. Additionally, due to digitization, companies are adopting artificial intelligence as a tool to excel in the market.
Problems Associated With Nail Care Products
As every industry face some challenges that act as roadblocks, similarly nail salon industry has the following problems
Absorption of components by the respiratory system.
Cancer-causing chemicals like phthalates
Discoloration of nails
Severe brittleness and dryness of nails from gel polish
Risk of contact dermatitis and chronic paronychia
Chipping of nails
Artificial Intelligence In Nail Paint & Nail Care
Essie, America's nail salon expert since 1981 in partnership with ModiFace introduces essie®, a virtual try-on salon that allows users to discover essie nail polishes using the highest standard in nail try-on services. This web-based tool makes virtual nail polish appear seamlessly on the user's hand-tracking nail shape and movement of fingers. Based on the choice of the customer, essie.com will direct her/him to a select retailer to check out and purchase.
At-home Manicure Device Featuring Exclusive AI Technology
Nimble is the world's first device that uses artificial intelligence to self-paint and dry nails in under 10 minutes. This device is a compact nail painting system that offers long-lasting, salon-quality manicures at home. Nimble is developed by a series of complex algorithms to replicate behavioral mechanics which scan each individual nail to identify where the nail starts and ends. The device then autonomously paints the nails using the precise amount of polish for a perfect manicure.
Areas To Explore In Nail Salon Industry
Sustainable Raw Materials: Sustainable nail polish formulas using plant sources for solvents, plasticizers, and polymers.
Toxin-free: Formaldehyde, toluene, dibutyl phthalate, formaldehyde resin, camphor, ethyl tosylamide, xylene triphenyl phosphate-free.
Innovative Formulation: Water-based, washable, peelable and glitter formulation, etc.
Recyclable Packaging: Using recycled bottles, refilling nail paints bottles, or using eco-friendly packaging for nail paints.
Changeable color: With temperature and light intensity differences the colors change into a different one.
Emulsion Type Enamel: Development of emulsion technology to formulate the moisture required for the health of dryness-prone nails.
Innovations In The Area Of Nail Polish And Nail Care
Safe and effective composition for brittle nails: New water-based nail-strengthening treatment containing hyaluronic acid and Pistacia lentiscus was evaluated. Pistacia lentiscus increase the quantity and quality of silicon and keratin in the nails and cationic hyaluronic acid adheres to the surface and deeply moisturizes the nails and cuticles. The product was applied for 6 months to the entire nail surface which showed a safe, effective, and easy to use option for nail brittleness and tendency to breakage.
Natural resin as hypoallergenic composition: Nitrocellulose used as a film-forming agent is unstable to heat and solvent used must be dissolved in nitrocellulose. These components are absorbed into the human body through the respiratory system. Thus, shellac resin is used as a natural alternative dissolved in ethanol. The film-forming agent is selected from acrylate copolymers, polyvinylpyrrolidone, polyvinyl alcohol, etc. This results in the formation of hypoallergenic composition for nails.
Environmental friendly color-changing composition: Color-changing nail polish previously contained raw materials which were harmful to the human body and environment. Thus, an environmentally friendly nail polish composition is provided which comprises aliphatic polyurethane, aliphatic urethane acrylate copolymer, thermochromic material, photochromic material, pigment, wetting agent, etc. The composition has a low odor, harmless to human health, environmental friendliness, temperature, and light-based color change.
---
Each year Signicent provides consultancy to hundreds of organizations to help transform their innovations to value.
---
Innovative Products
COVID-19 has impacted the nail care industry majorly retailers and offline stores. However, online sales have not declined majorly. The nail care report discusses the underlying factors due to the risk of infection at salons, customers are preferring at-home personal care options. Thus, products that are user-friendly and can be used at home are chosen over salon services by customers. Also to get hold of this industry most companies are taking the help of innovation.
ManiMe has made a product First Look at-home gel mani kit with Custom-fit sticks for nails made by using 3D modeling & LASER Cutter technology. The product is free from toxic chemicals like formaldehyde, camphor, ethyl tysol, toluene, parabens, xylene, dibutyl phthalate, formaldehyde resin, fragrances
Tenoverten has made a product Tenoverten Austin Nail colour. Tenoverten recycles bottles from any brand, not just their own. Austin is free from dibutyl phthalate), toluene, formaldehyde, formaldehyde resin, camphor, ethyl tosylamide, xylene, triphenylphosphate. The packaging of the product is environmentally friendly and leftover nail polish bottles are recycled.
Winsun Innovations has made an all-in-one nail polish container with a dilutor container and remover. It offers easy refilling, ease of handling, operation, and application. The container has a combination of plunger and spring. When compressed the plunger in the cap pushes the dilutor liquid in the polish container thus easily diluting the polish. This eliminates the need for storing the dilution liquid in a separate bottle. A separate nail polish remover scraper pad at the top end is also present.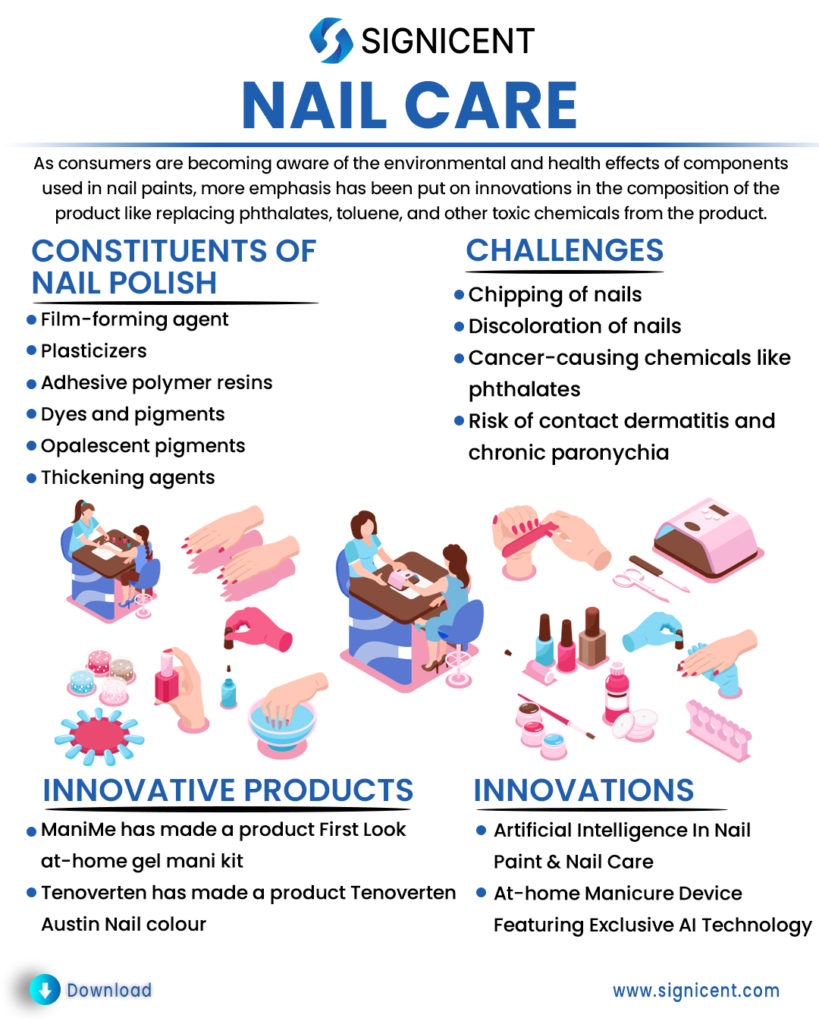 Start-ups
The nail care report will take you through the global start-ups that are attracting the market as they are incorporating innovations.
Preemadonna (2013) is a USA-based start-up with NailBotas a flagship product, a nail paint beauty device that instantly prints on nails any photo, emoji, image, or any self-created design in five seconds.
Static Nails (2016) is USA based manicure company founded by Alexis Irene. Static Nails is an at-home nail kit, featuring reusable nail appliqués which are applied using their non-damaging glue and can be worn up to 18 days or reapplied up to 6 times.
Gitti is a European start-up company (2019), a vegan nail color brand with a mission to "revolutionize the whole beauty industry with better products for consumers and our planet" by producing new water-based, petrochemical-free vegan formula.
Mergers and Acquisition
This section of the nail care report elaborates on the two most significant collaborations and acquisitions.
Revlon Inc. has developed a long-standing reputation as a color authority and beauty trendsetter providing its consumers with high-quality product innovation. Elizabeth Arden is a global prestige beauty company actively leading in different sectors like skincare, nail color, fragrance products, etc.
Revlon acquired the iconic Elizabeth Arden company and its portfolio of brands, including its leading designer, heritage, and celebrity fragrances. The acquisition creates a global beauty enterprise with a strong portfolio of leading brands. In July 2016, Revlon agreed to acquire all of the outstanding shares of Elizabeth Arden for $14.00 per share in cash.
Skin elements (SKN) is an Australian public comp on a mission of designing and formulating natural, organic, products by incorporating nature to source only the best for customers. BeachToes founding company, Sambora® specialized in formulating a colorful range of UV-protected, hard-wearing outdoor nail polish colors during intense outdoor.
Skin Elements (SKN) has entered an agreement to acquire up to 40 percent of Sambora who owns the Australian nail polish business, BeachToes. Sambora is privately owned by Samuel Wendt in Perth, WA. The company was established in 2011. BeachToes products are Australian-made, cruelty-free, vegan, UV-protected nail polishes that are specially formulated to retain color during intense outdoor wear.
Global Nail Care Market Analysis
In this section of the nail care report the Nail Care Market is discussed. It was valued at USD 8.3 Billion in 2017 and is projected to reach USD 13 Billion by 2024, growing at a CAGR of 5.3% from 2018 to 2024.
---
Recent Report