The purpose of this study is to identify Novel & Emerging Technologies in Maize Production Industry, including new inventions and findings. This Technology Intelligence study will cover the following aspects:
Recent Innovation and Trends provides an overview of recent developments and technologies in the corn production industry, including details of R&D groups, universities, and contemporary trends.
Competitive Intelligence covering key companies, start-ups, collaborations, innovative products, and other relevant information related to corn-based products.
Market Analysis includes market size, dynamism, growth rate projections, region-wise market segmentation, the highest growth rate in the segment, acquisitions and mergers.
---
Problem Faced in the Domain:
Maize is one of the most important crops, available in the world but as stated with great importance comes major challenges. A few of these challenges are identified during our searches which has a major impact on the domain:
Chemical instability of bioactive compounds, especially phenolic compounds, resulting in vulnerable alterations in structure and function when exposed to light, oxygen, heat, enzymatic activity, and water.
Meeting growing consumer demands for health via many currently available items, such as mayonnaise and dressings, formulated without using any chemicals and with ingredients sourced from plants or animals are preferred.
The use of UV-C irradiation to corn seeds alone does not significantly improve plant yield.
Innovative Solutions in the Domain:
Using maize waste for encapsulating phenolic chemicals will safeguard and improve the bioavailability of phenolic compounds with the potential to extend the shelf-life.
Cob from sweet corn can be used as a functional ingredient for dressings to enhance the value of the product and promote sustainability.
Significant improvements were observed in the performance of corn seeds after 30 days of treatment when UV-B irradiation was used instead of UV-C irradiation. These improvements manifested as an increase in flavonoid concentration and a higher yield of harvestable crop material.
Market Segmentation:
This section of the report focuses on the various segments of the maize production industry that present growth opportunities. Below, you will find a breakdown of the market segments in the corn production industry:
Based on the Source the market is segmentized into:
Based on the application the market is segmentized into:
Food and Beverages
Animal Feed
Ethanol Production
Others
Based on the geography, the market is segmentized into:
North America
Europe
Asia Pacific
Latin America
Middle East and Africa
Others
---
Each year Signicent provides consultancy to hundreds of organizations to help transform their innovations to value.
---
Global Players:
This section of the report enlists the global players working in the corn production sector. BASF was found to be the major key player in the corn market with the most studies followed by Cargill. Other key players include Evonik, Solvay, etc.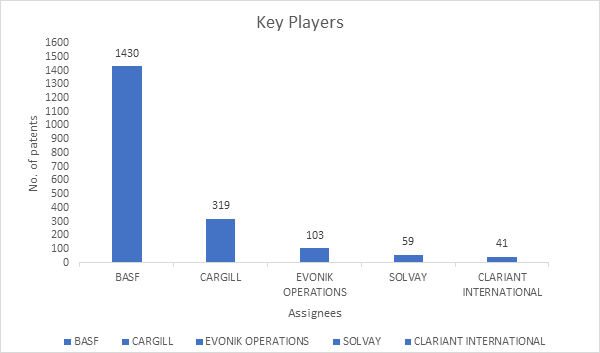 Future Scope:
Overall, the future of the corn production industry is likely to be shaped by a complex set of factors, including technological advancements, changing consumer preferences, and global trade patterns. Here are some potential trends that could affect the corn production industry in the future:
Introducing a corn-based alternative to petroleum-based plastics for selected consumer goods.
Unveiling of new corn varieties that have better nutritional values, such as higher crude fat content and amino acid content, eliminates the necessity for costly additives.
Using corn-derived fibers in apparel production to contribute to sustainable fashion in the future.
The development of new corn varieties with desirable traits such as higher yields, drought tolerance, and disease resistance through biotechnology is expected to continue.
Overall, while the future of the corn production industry is uncertain, there are many potential opportunities for growth and innovation as the world seeks to address pressing environmental and economic challenges.
Recent Report