The report will shed light on Optical Fiber. The report discusses the innovative solutions, key players, market size, segmentation, drivers, startups, and key collaborations in the Optical Fiber Area.
---
Optical Fiber
Have you ever thought about how we are able to make quick calls, browse websites at never before speed? The world is connected because of ever happening advancements in optic fiber technology. Optic fibers have ample information-carrying capacity. Moreover, they have low-cost and are immune from various kinds of disturbances. Therefore, it protects from trouble to electrical wires and wireless communication links.
Fiber optics, or optical fiber, refers to a technology that is associated with the transmission of information in light pulses. The medium could be a glass, plastic strand, or fiber. Fiber optic cables are used for long-distance, high-speed data transmission, and high-performance data networking.
Categories of Optic Fiber
On the basis of our analysis of the technology segment, the optical fibers are categorized into the following technology domains:
On the basis of propagation mode of light: Single-Mode Fibers and Multimode Fibers
Based on emerging technologies: Optical fiber made from Marine Algae, Artificial Neural Network (ANN) based Optical Fiber, Tapered Optical Fiber, Black Phosphorus Coated Optical Fiber
On the basis of refractive index: Graded Index Fibers, Step Index Fibers
Based on materials: Plastic Optical Fibers, Glass Fibers.
Problems Associated with Optical Fiber Technology
The beams of light that constantly bounce through hair-thin strands of optical fiber do all the magic. Many features of the fiber have improved drastically. But still, it faces some issues which are discussed below.
When a lightning strikes a metal component of optical fiber or a power line close to a short circuit, surge current or alternating current is induced. The induced current damages the line equipment as well as the personal safety. Additionally, a large amount of heat is generated.
The problems of yarn breakage and fiber breakage has increased optical fiber attenuation. Easy blockage of the water blocking yarn powder on a needle tube causes fluctuation of the outer diameter of the sleeve.
Viable Solutions Available for Optical Fiber Technology
The communication pipeline includes a body, the outer surface of the body is covered with an insulating shielding layer. The shielding filler includes modified ceramics, sheet-shaped nano aluminum nitride, and modified Juan Mica.
The outer layer of each tight-sleeved optical fiber is coated with a water-blocking layer. The tight sleeved optical fibers are combined to form a tight-sleeved bundle.
Emerging Technologies in Optic Fiber
A patent by HANGZHOU UNICOM PIPING IND CO LTD, reports that a lightning-proof optical fiber communication pipeline prevents instant lightning voltage during use. It has a better lightning protection effect. It also has good flame retardant properties. The communication pipeline includes a body, the outer surface of the body is covered with an insulating shielding layer. The shielding filler includes modified ceramics, sheet-shaped nano aluminum nitride, and modified Juan Mica.
A patent by JIANGSU HENGTONG PHOTOELECTRIC STOCK CO LTD, reports about a novel full-dry FTTH distribution cable. This cable uses a water-blocking tight-sleeved structure. With a novel structure, the optical cable has excellent mechanical performance and a good water-blocking effect. This in turn leads to high production yield and efficiency.
---
Each year Signicent provides consultancy to hundreds of organizations to help transform their innovations to value.
---
Case Study on Parameters of Novel Glass Composition
An optical fiber report reveals the determination and prediction of the physical parameters of novel / new glass composition. For instance, chemical resistance, heat resistance, melting point, durability, and other
We analyzed the optical fiber patent number US20150170022A1. Their research unveils the utilization of an artificial neural network. It is used for predicting an impact resistance of a composite material. Wherein, the composite material was impregnated with glass fiber.
The patent number JPH0554162A discloses the multi-layered neural network. Their research evaluated the possibility of vitrification of glass composition by using the given glass composition as input data. Physical properties can be predicted after determining whether or not glass can be formed.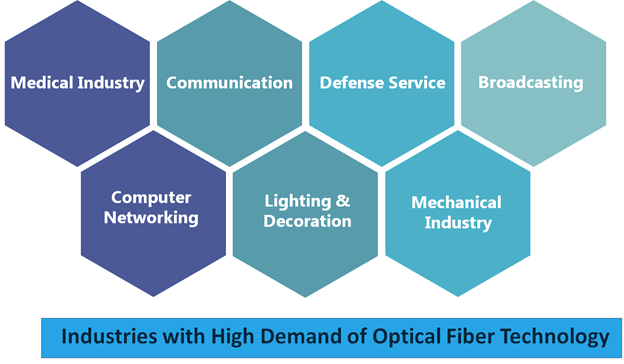 Advancements in Technology of Optical Fiber
An optical fiber report by UNICAMP School of Mechanical Engineering reports about the development of optical fiber made of a gel derived from marine algae. This device is edible, biocompatible, and biodegradable. Light is confined owing to the difference between the refraction indices of the agar core and the airholes.
CORDIS US has put forward an optical fiber report developing a new technique to fabricate tapered optical fibers. The PULSE project has reached a key technological milestone by demonstrating 500W of average output power from a double-clad single-mode tapered amplifier (70% slope efficiency at 976nm pump and 45dB gain). This doubling of the power-scaling record using a tapered amplifier sets the scene for the development of the highly efficient and cost-effective kW level pulsed lasers needed for many advanced manufacturing processes such as cutting and welding.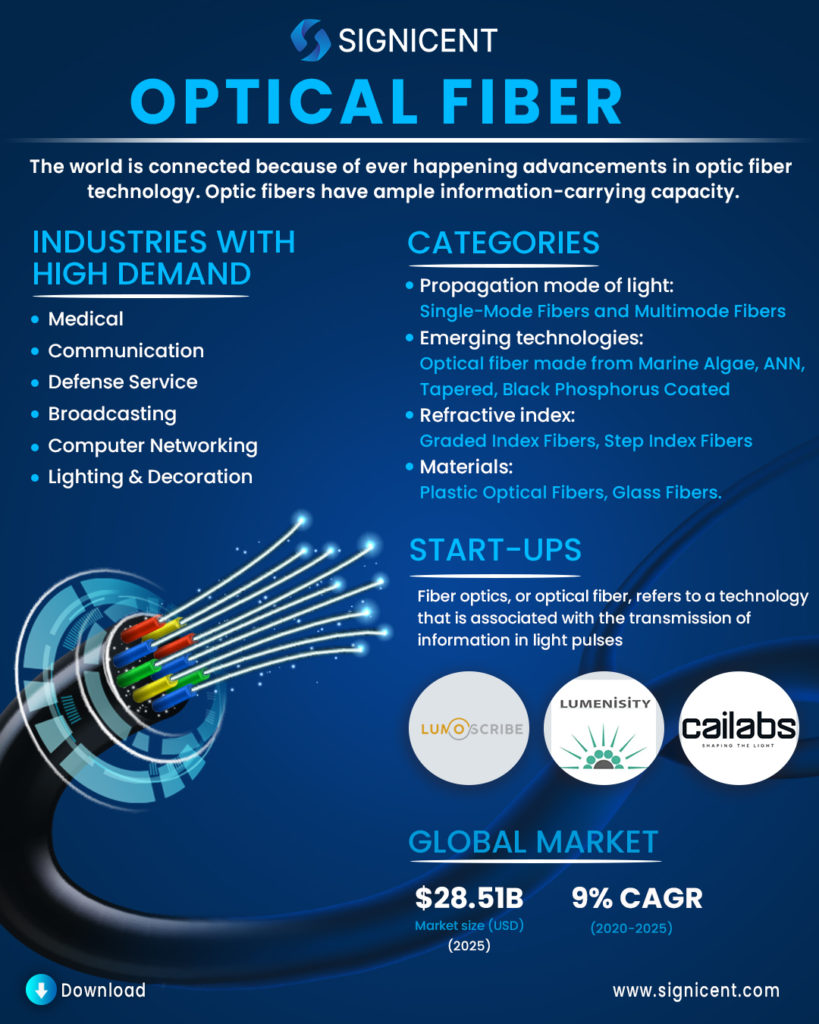 What Market Can Offer You?
Global optical fibre report by Signicent reveals that the global Optical Communication Market is estimated to be USD 18.53 billion in 2020 and is growing at a CAGR of 9.0% during the forecast period of 2020-2025 to reach USD 28.51 billion by 2025.
Drivers of The Market
Increasing demand for next generation of high bandwidth data center will offer immense growth opportunities.
Advanced optical solutions serve a number of commercial markets which would further drive the growth.
Advanced optics are used in medical optics from optical fiber to full detection systems further boosting the growth.
Start-ups Working in Optical Fibre
COM&SENS is North Holland's startup. It implements Fiber Optic Sensing concepts for condition-based health monitoring of concrete, steel, or composites structures based on Fiber Bragg Gratings technology.
France-based startup CAILABS has developed a technology that controls the shape of light within optical fibers. It increases data speeds by a factor of a thousand, has raised €8 million of funds.
LUMOSCRIBE LTD is an R&D company located in Cyprus. It specializes in the development of custom-made optical fiber sensors and monolithic fiber lasers. Moreover, it also workss on niche optical sensing solutions using Artificial Intelligence.
LUMENISITY LIMITED is UK based startup. It was formed in early 2017 as a spin-out from the University of Southampton. It commercializes breakthroughs in the development of hollow-core optical fiber.
---
Recent reports