While some of the section is still thinking if smart restroom technology is a necessity or not. It has proved to be a revolutionary innovation for people with special abilities. IoT-connected dispensers for paper towels, tissue, or soap and sanitizer can provide information about restocking based on real-time data. The report talks about key challenges, solutions, patents, research & market growth of IoT & Smart Restroom Technology.
---

In reference to the restroom, IoT is a cloud-based connection. It interconnects the physical devices in the restroom with the online data collection systems. Therefore, one can monitor, track, and see data in real-time that helps to identify and resolve issues prior.

For instance, now we have IoT-connected dispensers for paper towels, tissue, or soap and sanitizer. They make wild guesses about restocking based on real-time data. The sensors in the dispenser transmit usage and other data through the cloud, wi-fi, or a third-party cellular network.

Also, IoT is proving to be a revolutionary technology for specially-abled sections. Blind and people with impaired hearing can use keyboard navigation or automated voice transcription to access restrooms. IoT has made the usage of washrooms so easy for old aged section, too.
Let us dive deeper to get insights about innovations, market, and emerging trends relating to smart restroom technology so that you can make informed decisions to achieve your business objectives.
The global smart bathroom market is expected to reach approximately USD 1093 billion by 2023, growing at 1074% CAGR from 2017 to 2023.
There is ample scope of IoT technology. By introducing Smart Restroom technology, customer inflow can fairly be boosted. Following places would significantly benefit from Smart washrooms solutions:

Transport hubs
Social gathering venues
Shopping centers/malls
Healthcare institutions
Workstations
Problem of Smart Restroom Technology
The undiversified shower mode and largely occupied the space of the conventional shower device.
To solve this problem, it should be carried out in terms of establishing power station and relevant power/power distribution infrastructure huge Investment, to leave cost problem.
Innovative Solution
All the shower devices are controlled and managed in a centralized manner based on the Internet of things by the wireless network through the control center.
Smart Restroom Technology Offering Smart Washrooms Solutions
LG ThinQ Smart Washer: The award-winning technology of LG's new AI-powered TWINWash Washer is winning hearts. It won the 2020 CES Innovation Award. It has integrated AI and sensors, that can identify different fabric types. According to the fabric type, it is capable of setting up the optimal wash cycle automatically.
It has enormous features such as ezDispense to automatically add detergent depending upon the load size. TurboWash 360, two separate washers, Amazon Alexa and Google Assistant compatibility with Amazon Dash Replenishment service.

Poseidon Smart Mirror: It is honoured with an Innovation Award in the smart home category at CES 2020. This smart mirror offers its users personalized crafted skin and personal care routine. The face-recognition technology detects each person. Then it provides them with insightful feedback on skincare. It has a magnifying feature that helps in studying minute details of the face on a 4K display. It has provided the users with various options. For instance, the size, orientation, colours, lighting, and finishing of the mirror frame. It is very safe as it has an in-built microphone and camera that can be deactivated as and when required.
Inspiring Case Studies Dealing with Smart Washrooms Solutions
TWM601498U: talks about the user to adjust the brightness of the light-emitting part of the mirror according to their requirement. Therefore, saturation lights can be produced. The most amazing aspect is that it switches itself off when it is not in use. It saves a lot of energy.

KR20200077133A talks about smart drying system that controls a dryer. The control is based if someone is taking shower or not. An optimal value of power consumption is used. This helps to remove humidity and moisture. This safeguards the environment from fungus proliferation. Also, it helps in the prevention of slip accidents in a bathroom. Thereby solving a problem that a conventional ventilator could not do as effectively as this smart drying system.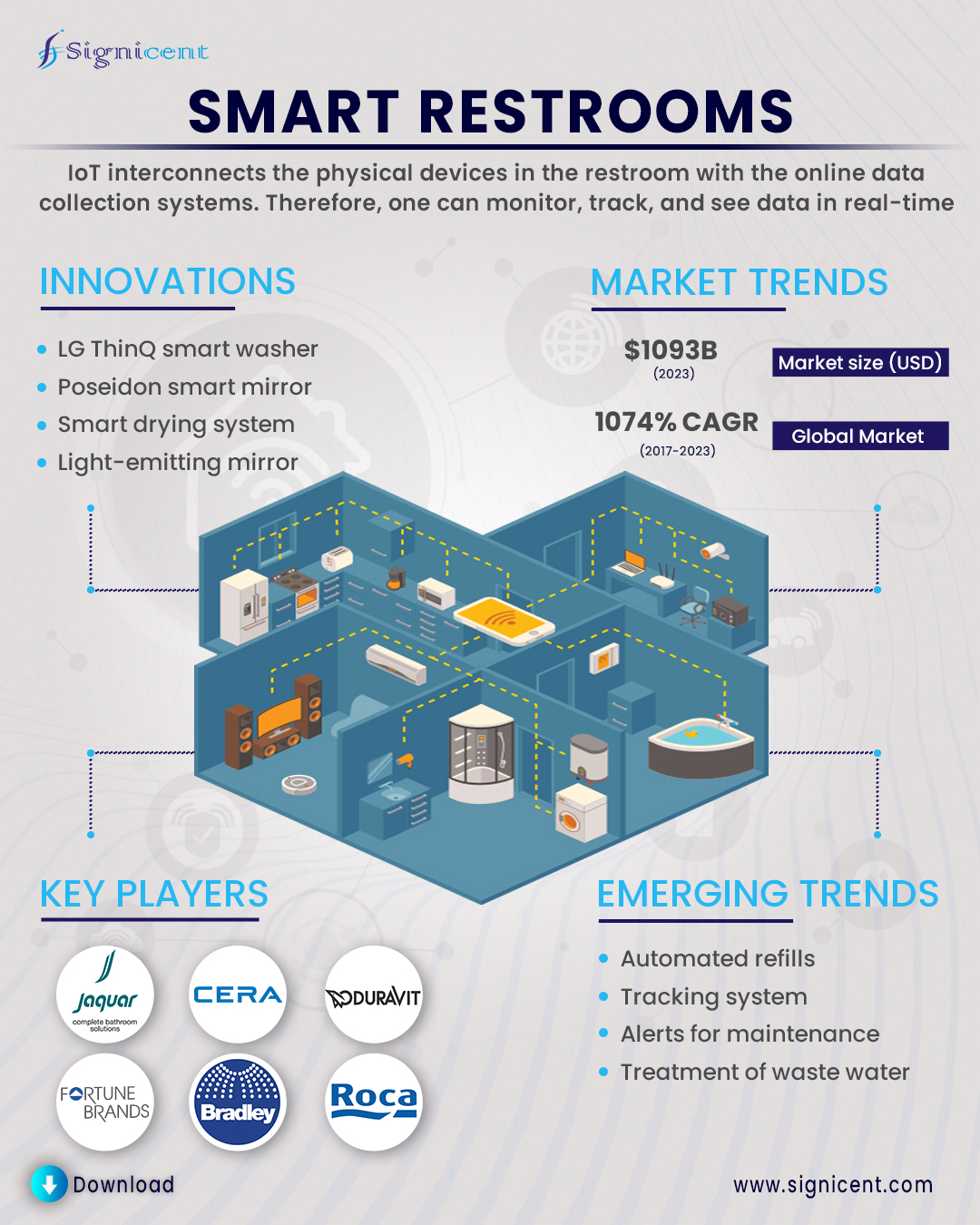 Emerging Innovations in Smart Restroom Technology
A smart washroom solution presents a fair chance to drastically reduce infections. Loaded with devices like touch-less faucets, automated soap dispensers, automatic flush valves, smart lighting controls, and other sensor-operated fixtures. The restroom is connected with smart virtual assistance like Google Home, Amazon Echo, and Samsung's Smart device. Smart washrooms solutions have a lot to offer, some of the prominent features are listed below:

Automated Refills: With the help of IoT, your smart washroom will never run out of towels or soap. Timely done refills rapidly enhance customer experience many folds.
Alerts for Maintenance: Now you don't need to make a to -do – list about maintenance
Tracking System: Save time by not waiting in long queues by tracking the availability of a cubicle at the workplace.
Detecting smoking at no smoke area to strictly follow guidelines.
Alert when bins are to be dumped.
IoT Water utilization Monitoring: Smart toilet IoT analyzes data statistically to track trends and patterns.
Storage (e.g., tanks)- Example properties: Water level, pressure, temperature
Pipes, Network- Example properties: pressure, flow speed, level measurements, leaks
Pipes, Distribution- Example properties: pressure, flow speed, level measurements, leaks
Treatment of Supply water- Example properties measured: pH, chlorine, pressure, temperature, flow speed, level measurement
Treatment of Wastewater- Example properties measured: Pressure, temperature, flow speed, level measurements, chemical properties
---
Each year Signicent provides consultancy to hundreds of organizations to help transform their innovations to value.
---
Key Market Players Offering Smart Restroom Technology in IoT Washrooms
Roca Sanitario S.A (Spain)
Jaquar
Cera Sanitaryware Ltd.
Duravit AG (Germany)
Bradley Corporation (US)
Fortune Brands (Canada) and
Masco Corporation (China) among others.
Global Smart Bathroom Market
The market has been divided into various segments based on
product type
connectivity
end-user
region
The global smart bathroom market is expected to reach approximately USD 1093 billion by 2023, growing at 1074% CAGR from 2017 to 2023.

The rise of smart homes in developing and developed countries all over the world is driving the demand for smart bathrooms.
By Product, the market is segmented into Smart Toilet, Smart Soap Dispenser, Smart Faucet, Smart Shower, and Others.
By Connectivity, the market is segmented into Bluetooth, Wi-Fi, and 3G.
By Application, the market is segmented into Commercial, Residential, and Others.
By Distribution Channel, the market is segmented into Offline and Online.
By Component, the market is segmented into Hardware, Software, and Services.
North America dominated the market with a revenue-based share.
Asia Pacific is expected to witness the highest growth over the forecast period.
The smart toilet product segment is expected to witness the fastest growth from 2020 to 2025.
Drivers of Smart Restroom Technology
With the inception of hi-tech and innovative technologies such as the Internet of Things, the demand for automation has inclined drastically. The market of smart bathrooms is anticipated to see burgeoning growth.
The following factors are helping in boosting the market
Hi-tech toilets and soaking tubs
Increase in popularity of digital faucets
Growing need for home improvement
Demand for bathroom redesigns
The increasing adoption of IoT
---
Recent Report