This report will shed light on challenges, solutions, recent technology advancements, patents & research of Solid-state Battery used in Electric Vehicles (EV), get free primer
---
Today's lithium-ion batteries are not a good fit, they're too heavy, too uneconomical and take too long to charge. The Li-ion battery possesses a threat of swelling due to variations in the temperature. Also, the leakage caused by external force can damage the battery since it utilizes the liquid electrolyte solution. Therefore, it becomes a necessity to find safe and secure alternative. It is estimated that Electric Vehicles will make two-thirds of all road vehicles by 2050.

The composition of lithium-ion batteries consists of a cathode, anode, separator and electrolyte. A conventional lithium-ion battery has a liquid electrolyte solution. On the contrary, a solid-state battery utilizes a solid electrolyte, not liquid. The role of a separator is also played by the solid electrolyte. A solid-state battery with solid electrolytes shows higher stability and increased safety. If the electrolyte gets damaged, the form is maintained because of the solid state.
According to a market report, "The global solid-state battery market size is anticipated to grow from USD 62 million in 2020 to USD 483 million by 2027. It is expected to grow at a CAGR of 34.2% during the forecast period. The solid-state battery uses a solid electrolyte and not a liquid electrolyte solution. The role of a separator is also played by the solid electrolyte.
Solid-State Battery- The Need?
It is expected that EVs can replace internal combustion engine vehicles, and become the mainstream in the auto industry. To become the irrefutable leader in the industry, EV must showcase at least a similar level of mileage as the ICEV. To have similar mileage its is important to increase the battery capacity. Solid-State Batteries can solve the problem.

One method is to increase the number of batteries. But this will lead to an increase in price too and it will take up a lot of space in the vehicle.

A solid-state battery can increase energy density per unit because it requires only a small number of batteries. There is no risk associated regarding explosion, so there is no need to have components for safety, which in turn saves more space. This creates ample space to put more active materials which increases the energy capacity of the battery.
Solid-state batteries can manage more charge/discharge cycles before degradation. This in turn increases the lifetime. Also as it offers better safety that means less safety monitoring electronics are required in the battery modules/packs.
Technological Advancement in Solid-State Batteries
There is no denying in the fact that "future belongs to electric vehicles'". Solid Power utilizes sulfide-based cells. The most fascinating part is that solid electrolyte is inflammable. It is observed that this helps in delivering more than 50 percent energy density. Some of the emerging areas are:
3D Architecture solid-state Battery
The ultrathin flexible inorganic solid electrolyte
A capacitor assisted interlayer
Contact Signicent to understand more technological advancements
Case Study
A very prominent challenge faced is the low electrochemical performance due to unfavorable interfacial contact between the electrode layers and the solid-state electrolyte layer.

To overcome the challenge of low electrochemical performance, a capacitor auxiliary interlayer has been provided.

US2021021009A1 (GM) (US) discloses an exemplary innovation, for instance, a capacitor auxiliary interlayer is provided with composition. The Polymer-based material includes at least one poly(ethylene glycol) methyl ether acrylate with Al2O3 and LiTFSI, a polyethylene oxide (PEO) with LiTFSI, and a poly( vinylidene fluoride) copolymer with hexafluoropropylene (PVDF-HFP)-based gel electrolyte. The inorganic material includes a 70% Li2S-29% P2S5-1% P2O5. The polymer-inorganic hybrid material includes a mixture of PEO, LiTFSI, and 75% Li2S-24% P2S5-1% P2O5 (LPOS)
---
Each year Signicent provides consultancy to hundreds of organizations to help transform their innovations to value.
---
Solid-State Cell Architecture- Challenges & Solutions
A challenge of solid-state batteries is the low current conductivity and subsequent slow rate of charging has been witnessed.
One of the solution to maintain high conductivity in solid-state battery is to use appropriate additives and binders within their layers. Once these settle, the next important step is to keep it under pressure. This process aids in maintaining contact throughout the charging and discharging cycles.

Another approach that is being practiced is to make anode, cathode, and electrolyte from different phosphate compounds. It helps in enabling charging rates greater than 3C (at a capacity of about 50 mAh/g). This has shown ten times higher values as found otherwise.

On parallel principle, the Jülich research lab is developing a solid-state cell that can charge in under 1 hour. Earlier the required time was near about 10–12 hours.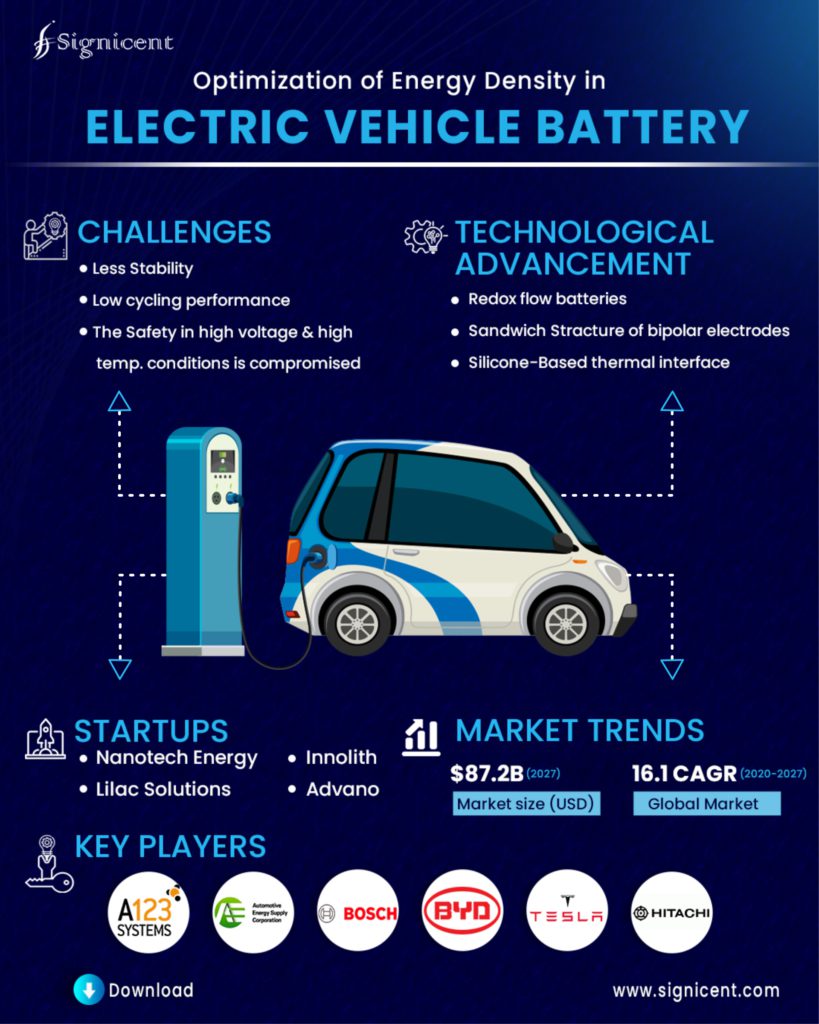 Market of Solid-State Battery
According to a market report, "The global solid-state battery market size is anticipated to grow from USD 62 million in 2020 to USD 483 million by 2027. It is expected to grow at a CAGR of 34.2% during the forecast period.

The main driver is the reduction in maintenance costs. When compared with conventional petrol/diesel cars, the maintenance cost of electric vehicle batteries is lower. Additionally, electric vehicles reduce the carbon footprints which contain toxic gas.

According to the Faraday Institution, the solid-state battery demand will reach approximately 2000 GWh by 2040.

Partnerships In 2018, Hyundai partnered with a US-based startup, Ionic Materials. Iconic materials are working in advance EV batteries. They use solid-state polymer electrolytes and low-cobalt cathodes that have the ability to conduct ions at room temperature.
Acquisition & Mergers in Solid State Battery Industry
Altair International Corp., Pittsburgh, PA, United States has announced in April 2021 that they have acquired a novel, 'next-gen' lithium battery technology from Cryptosolar Ltd., a company incorporated in the United Kingdom.
QuantumScape, a solid-state battery company backed by Volkswagen Group, has agreed to merge with Kensington Capital Acquisition Corp. The merger will give QuantumScape a post-deal market valuation of $3.3 billion.
Omega Seiki Pvt. Ltd, part of Anglian Omega Group of companies, is partnering with New York-based company C4V. They will introduce highly advanced chemistry cells to India. C4V is planning to become the first lithium-ion cell maker with solid-state technology in India.
Companies Working in Solid-State Battery
24M, Applied Materials, BatScap (Bolloré Group) / Bathium, Beijing Easpring Material Technology, BMW, BrighVolt, BYD, CATL, Cenat, CEA Tech, China Aviation Lithium Battery, Coslight, Cymbet, EMPA, Enovate Motors, FDK, Fisker Inc., Flashcharge Batteries, Fraunhofer
Recent Report