Note: The free primer on sustainability in beauty & cosmetics industry report can be requested from here.
---
There is a surge in the consumer interest towards the sustainability in beauty & cosmetics industry. The global cosmetics and personal care industry also known as the Beauty Industry which was valued at an estimated $130.7 billion in the year 2016, is expected to rise from a CAGR 4.7% to 5.3% during 2017-2023. However, this growth involves challenges that the industry is facing.
There has been a substantial rise in disposable incomes over the past decade, equally padded up are the expansion in worldwide economies, the fast-evolving lifestyles, alongside rising demands of sun care products because of varying climate, all of which only encourage the expansion of the cosmetic products market.
However, cosmetic products are manufactured from artificial sources, and may be animal-sourced too. Non-sustainable materials such as formaldehyde-releasing preservatives, dibutyl phthalate (DBP), BHA & BHT, coal tar dyes are still extensively used. The ill-effects range from environmental issues to health concerns. On the brighter side, increasing consumer acceptance of naturally derived sources has enforced the manufactures to use organic materials including microbiome-derived products.
What defines the Sustainability in Beauty & Cosmetics Industry?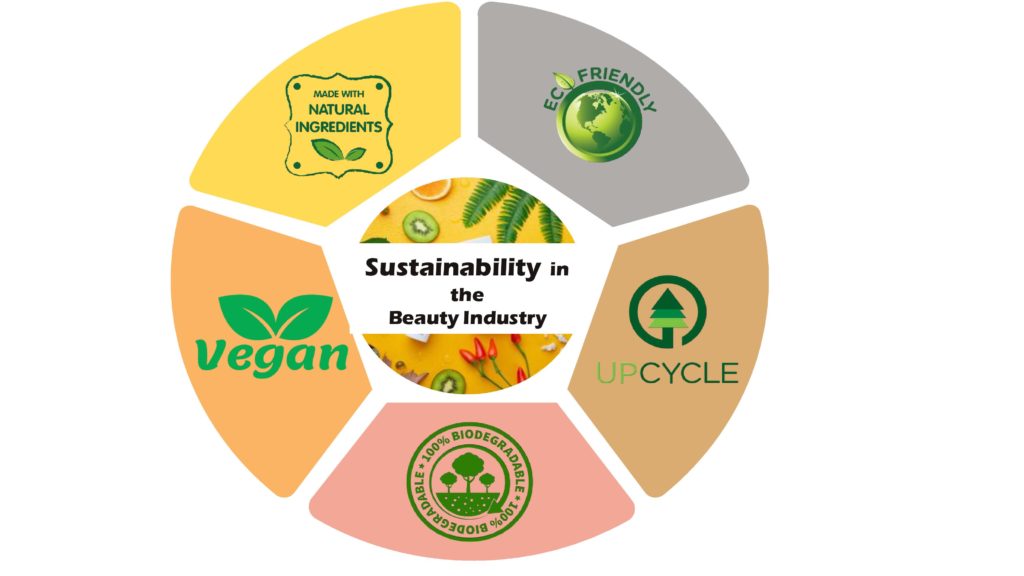 With increasing interest in sustainability, and issues such as health, environmental degradation and the impact of products on environment has become a steering force for the industry. Sustainable beauty encompasses eco-friendly packaging, healthy and natural formulations, and waste utilization.
Sustainable luxury in cosmetic packaging has emerged as a major boosting factor in skincare industries and product manufacturing where the packaging continues to evolve on customer driven choices with innovation under areas of vegan, cruelty-free plant based compositions and packaging using materials such as corn starch, sea-weed and bamboo for attractive packaging of products.
Waste Utilization using non-edible by-products of food & fruit waste, including fruit and vegetable peels, seeds and leaves is also catching up.
Eco-friendly packaging
Customer consciousness towards environmental friendliness and carbon neutrality has propelled the packaging industry towards eco-friendly measures. Cosmetics such as foundations are packed in bamboo compact or seed envelope which can later be planted when the season is right to grow beautiful wildflowers. This is a technology used by Elate cosmetics, a Canadian company committed to minimizing environmental impact. French company Zao makes organic lip polish packaged in bamboo material and sells them in cotton pouches. Packaging of other skin care products such as moisturizers, face masks etc. made from bamboo has found interest among many other cosmetic producers across France and US as well.
Brands working in Eco-friendly packaging of cosmetic:
L'Oréal's sustainable skin products brand Seeds Phytonutrients sources its sustainable packaging from Ecologic and makes shower friendly paper bottles using 100% recycled paper with less than 60% plastic than a traditional bottle. Innisfree, a South Korean company sells serum wrapped in a unique outer paper mold made from mixed scrap paper, which can be pulled away from the inner plastic container.
Another brand from L'Oréal, Lancome Paris and the Canadian company Pogo make refillable packaging for skin care products such as creams and lip balms respectively.
Sustainable beauty products such as eyeliners are now being made as a refillable cosmetic, by Surratt, a Japan born US company, thus leaving behind a lower carbon footprint.
---
Each year Signicent provides consultancy to hundreds of organizations to help transform their innovations to value.
---
Natural and Organic Ingredients for the sustainable beauty Industry
In the skincare products market, 'Natural' has become the new normal today. The cosmetics panorama is greatly influenced by the use of natural and organic ingredients in the making of cosmetics. Conventional ingredients include phthalates, parabens and petroleum based ingredients which can be toxic for use on skin and for the environment. However, an increase in the growth of natural and organic market for beauty products shows that innovation in sustainable beauty is driving this sector for example,
A mascara composition comprising a naturally derived hair fixative system containing pullulan and candelilla wax resin.
Lip balm made from ingredients of 100% natural origin such as beeswax, Vitamin E, Peppermint Oil.
Mascara enriched with nourishing Olive Leaf Extract, and Vitamin E which is Hypoallergenic, Vegan, Silicone Free, and Harsh Chemical Free.
Brands working in Natural and Organic Ingredients for sustainable beauty industry:
USA based company Alima Pure sells foundation made from natural ingredients. Another American company makes Concealer formulated with clean ingredients such as organic coconut oil that melt in to conceal imperfections without hiding skin's natural beauty. CLR, a German company manufactures skin cream with microbiome infused materials such as Lactococcus Ferment Lysate which positively influences the speed and quality of epidermal growth.
Vegan and cruelty free cosmetics
"Cruelty-free", "vegan" and "100% natural" are some jargons that have now become over-the-counter phrases for purchasers of cosmetics these days. Makers over the world have started switching to including these terms in practice for their products. Sensitivity towards ingredients is pushing for innovation in the sustainable beauty industry with products that are made of vegan materials such as honey beeswax, keratin etc. More innovations in this industry are on their way and some products are already on the market such as:
Cleansers made from cruelty free and 100% vegan ingredients watermelon extract and vitamin B5.
Serums made from vegan collagen- collagen proteins produced through a plant-based fermentation process that uses zero animal inputs.
Lipsticks made from organic aloe vera extract, sweet almond oil and Candelilla wax
Brands working in the Vegan and cruelty-free cosmetics industry:
The United Kingdom based company Lush is now selling makeup brushes made of soft synthetic hair and wooden handles, constructed using vegan glue. American beauty products company 100percentpure markets mascara made with natural pigments from black tea, berries, and cocoa. Many more brands worldwide are engaged in making natural and cruelty free beauty products.
Upcycling of food waste
Upcycling of food waste is a method of transforming waste food ingredients into useful products. Upcycling has emerged in recent years as a way for food producers to add value to byproducts or surplus ingredients that otherwise might have ended in dumping yards. Enormous amounts of discarded products result from throwing away of ripened food or leftovers. The emerging trend of zero waste beauty is based on the idea of creating cosmetic ingredients from food waste. For example, Pulps & peels of various fruits can be used to make ingredients for lip balms. A solution for this is found in that treated banana peels are used in the production of lotion or shampoo.
Brands working in Upcycling of food waste:
Upcircle, a UK based brand is pioneering in the use of food by-products for making skincare items such as face masks created with repurposed coffee grounds from London cafes. Another UK based company Fruuurskin makes natural lip balms produced locally in small batches, using by-products of processed fruit waste, creating biodegradable and sustainable formulas, while also generating extra revenue for small fruit farmers.
Biodegradable & Portable Skin Care
Toxicity and skin irritation remain prime issues when we talk about skin care products. For instance, some wet wipe tissues contain flushable binder system containing boric acid which in higher concentrations is toxic to the skin. A solution to this was found in pre-moistened dispersible and biodegradable wet wipe which is made of non-woven fiber containing PVOH containing binder and boric acid and can also be disposed discreetly by flushing down the toilet bowl safely.
Brands working in Natural Biodegradable & Portable Skin Care:
Simple, a Unilever brand in UK, makes compostable cleansing wipes made from soft, renewable plant fibers and sustainable wood pulp. Maskologist, UK has been engaged in making Biodegradable Hydrogel face mask which is free from Parabens, Phthalates, Mineral oils, PABA, Petrolatum, Paraffin, DEA and Animal Ingredients.
Regulatory Authorities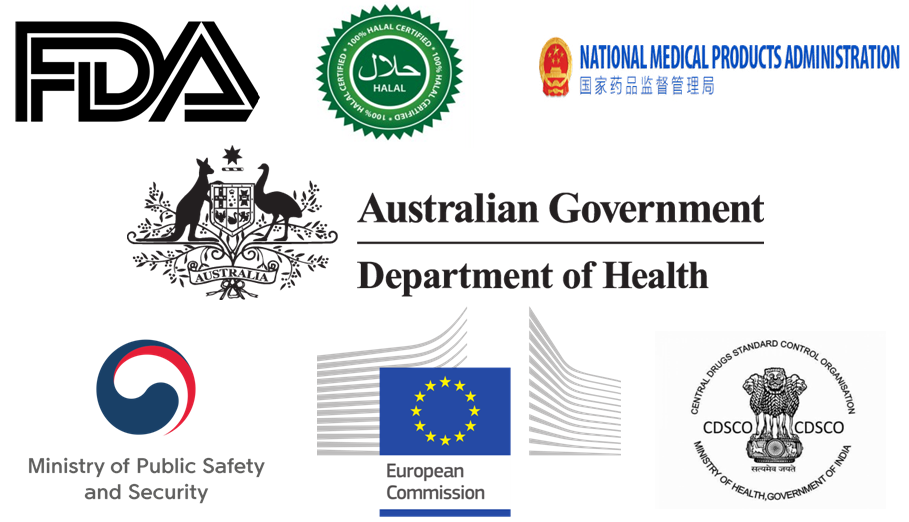 Sustainable Beauty Market
Biodegradable Cosmetic Packaging Market

Stringent legal measures for use of eco-friendly and biodegradable materials for packaging of cosmetic goods in several countries have pushed for the growth of this industry. It is estimated that the biodegradable packaging market for sustainable beauty will grow to about $7 billion by the end of 2026.
Vegan Cosmetics Market
With a spread of the concept of veganism, millennials are getting more and more enthralled by vegan products. Consequently, a market that is much influenced by the younger generation and driven by celebrities the world over, a growing trend is imminent. With an increasing demand for safer & natural cosmetics, rising concerns regarding the environment and stricter government rules & norms associated with animal testing, the market is estimated to reach $23.60 billion by 2027 at growth rate of 6.52%.

Impact of Covid-19 on the Beauty Industry
With luxury brands such as Christian Dior, Givenchy, Lamborghini pitching in to aid the healthcare industry, the cosmetics industry has seen paradigm shifts since the health and safety concerns of consumers stressed the need for other utilities and cosmetics taking a backseat. The way forward in the Post-Covid era would be to meet challenges such as a need for touchless beauty applicators due to contamination concerns, demand for do-it-yourself beauty products and home pampering sessions, using ingredients to strengthen skin defense against the virus, using AI to reach the right users and educating customers about product safety and more.
---
Recent Reports