The sustainable bioenergy generation report will shed light on the technology landscape to find renewable energy generation processes, sources, and innovative methods. Further, this report will shed light on the challenges of the industry, future trends, emerging innovations, market research, start-ups, and major players.
---
The renewable source of energy is Biomass, Solar, Hydropower, Geothermal, Wind and Tidal energy. Global energy investment is anticipated to recoil. As the global concern is inclining with each passing day the renewable power is expected to have the largest market share and a very promising future.
Biomass to Bioenergy Report
Biomass is a plant or animal material used for energy production. It is used to fuel electric generators and other machinery. Regional and seasonal availability of biomass, together with competition for land may affect the growth of the sector.
The carbon in biomass can continue to be exchanged in the carbon cycle. It can be wood or forest residues, waste from food crops, horticulture, food processing, animal farming, or human waste from sewage plants. Biomass can be burned to create heat (direct), converted into electricity (direct), or processed into biofuel (indirect).
Report on Traditional Challenges Associated With Renewable Bioenergy Generation
To understand the industry challenges relating to biomass energy, we went through thousands of scientific literature/ academic publications and patent literature based upon which our team found the following major industrial problems
Raw materials for biomass energy sources such as crops & their leftovers (rice, corn, wheat) produce less amount of biofuels and require much agricultural land. Along with this availability is also imposing the challenge.
Biomass utilization faces problems such as low bulk volume and density which leads to biomass degradability due to long transportation and storage. Moreover, utilizing wood is highly expensive and not sustainable.
Post comprehensive analysis we came across the following viable, innovative, and possibly the finest solutions:
The alternative can be the usage of algae instead of various feedstocks. Algae (Eg. Botryococcussp.) is rich in lipids and is proven to be a better source of generation of biofuels as compared to the crops.
Utilizing agro-forestry residues will be highly cost-efficient and to deal with the problem of bulkiness and density pelleting acts as a feasible solution as it minimizes moisture content and increases shelf life.
Sustainable Generation Report will take you through challenges and possible solutions. Globally innovative advancements have resolved traditional challenges.
Challenges High Oil Can Overcome
Biofuel produced from Algae is 10 to 300 times higher than what is produced from the crops such as corn or maize etc. due to the high moisture content in it. Genetically modifying the algae strains for increased production of lipid content will lead to high biofuel production.
New Extraction Process
Extraction of lipids with much less energy due to high moisture is a major problem. A new jet mixer technology replaces the additional processes used to remove the moisture. This creates turbulence needed to prompt the lipids to transfer into the solvent stream and makes the process highly cost-effective.
Availability and growth
Algae can be grown easily the whole year which is a problem with seasonally available plants. Moreover, high-quality agricultural land is not required for its growth. It can be grown on wastelands filled with dirty water.
Companies using Algae as Raw Material
Algenol Biotech LLC: Algenol is a Florida-based biotechnological company producing ethanol and other fuels from patented technology. Algenol licenses the DIRECT TO ETHANOL® technology and one of them is with biofields of South Africa.
Manta Biofuel Inc: MANTA biofuel US-based company that produces renewable crude oil from the algae by using technologies like Magnetic algae harvesting system, Green water growth system, and hydrothermal liquefaction technology.
Eldorado Biofuels: Eldorado Biofuels is a New Mexico-based company working on treating industrial waste as well as the production of renewable energy from algae. They treat industrial wastewater for removing toxins and use it for algae cultivation.
Agro/ Forestry residues & Pelleting
Agro or Forestry Residues: Usage of agroforestry residues will be an efficient way to reduce the dependency on woods and crops. This is a more cost-efficient alternative to biomass fuel.
High bulk and density: Pelletization of the forestry residues or agro residues will help in increasing the bulk and density of the biomass which can be used efficiently and easily.
Moisture Content: Provides a method of an autocatalytic high-calorific-value biomass pellet fuel. This will reduce the moisture content and will help in long transportation, storage, and increased shelf life of pellets.
---
Each year Signicent provides consultancy to hundreds of organizations to help transform their innovations to value.
---
Companies using Pelleting Techniques
Hi-Tech Agro: Hi-tech agro is India based Company working in the area of Municipal Solid Waste and Biomass Processing. They are providing a pellet machine for low-density fibrous mass. The machine consumes less electricity, has the ability to run round the clock with less downtime and much more.
DRAx: Drax biomass is headquartered in LA and manufactures compressed wood pellets produced from sustainably managed working forests. These pellets are used for electric utilities reducing dependence on coal and lowering carbon emission.
Collaborations for Sustainable Energy
CalBioGas LLC
California Bioenergy LLC, Chevron U.S.A. Inc., and local dairy farmers on Sept. 24 announced their joint venture, CalBioGas LLC, successfully achieved the first renewable natural gas (RNG) production from dairy farms in Kern County.
Sustainable aviation fuel
To reduce emissions, Neste and Shell Aviation have entered into a sustainable aviation fuel (SAF) supply agreement., with effect from October 2020.
Report on Collaborations for Waste Usage to Generate Bioenergy
Community Nutrient Concentration System (NCS)
AQUA Innovations and GL Dairy Biogas LLC, along with three local dairy producers brought together cutting-edge technology that turns cow manure from area farms into drinkable water.
Total Corbion PLA
Corbion and Total announced their intention to build a new PLA bioplastics plant in Europe through their Total Corbion PLA joint venture.
Report on Emerging Areas in Bioenergy
Renewable Jet Fuel From Industrial Waste Gases
LanzaTech uses a process that converts carbon-rich industrial waste gases, such as carbon monoxide from steel production, into fuel for airplanes. LanzaTech takes these waste, carbon-rich gases to first make ethanol. Ethanol can be used for a range of low-carbon products, including jet fuel.
Algal Turf Scrubbers, Fuel Cars and Clean Up Pollution
Sandia National Laboratories developing Algal Turf Scrubbers-long thread-like algae that strategically installed near stormwater or wastewater runoff sites to absorb excess phosphorus and nitrogen from agricultural sites. Excess phosphorus and nitrogen can harm aquatic ecosystems; however, Algal Turf Scrubbers can mitigate this problem. Then the algae can be converted into biofuel.
Microbes Working Together Multiply Biomass Conversion to Bioenergy
Luterbacher's lab and EPFL use the different Microbes which will process the lignocellulose with its enzymes for the production of new chemicals present in the non-edible plants like grass, leaves, and woods. EPFL researchers provide spatially segregated bioreactor that allows multiple different microorganisms to co-exist and each one performing one step of lignocellulose processing.
Regulatory Organizations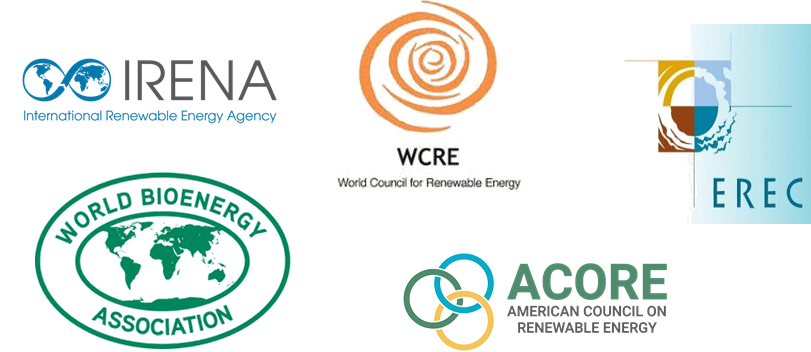 Market Report For Renewable Energy & Bioenergy
The global renewable power generation market demand was estimated at 6890.7 TWh in 2019 and is expected to grow at a (CAGR) of 7.9% from 2020 to 2027. The market is segmented into Hydropower, Wind, Solar, Bioenergy, and Others. The drivers of Growing worldwide energy crisis. Increasing awareness regarding renewable energy sources. Rising environmental impact from conventional sources of energy worldwide.
---
Recent Reports