The wound care report explores and identifies various innovations in the wound care (Non-Woven) industry. Key emerging companies working in hygiene and treatment sectors, along with major collaborations and startups emerging with the latest technologies have been discussed. Moreover, some light is shed on key innovation areas to be explored to maintain wound care.
---
To understand the industry challenges relating to wound care industry, Signicent's experts went through thousands of scientific literature, journals, academic publications, and patent literature based upon which our team has discussed some of the most commonly faced challenges with innovative solutions.
The Tensile Strength of Natural Polymeric Yarns
The tensile strength of the conventional non-woven wound dressing is usually weak, reinforced by longitudinal stitches. Therefore, the vulnerability to the tensile force in the transverse direction is strongly felt. Therefore, it usually breaks up in the wounds making dressing removal more time and labor-consuming.
The aforementioned challenge can be resolved by using a multi-layered non-woven wound dressing. It is stitched up by natural polymeric yarns which enhances the resistance of wound dressing to the tensile force in both longitudinal and transversal directions.
Method of preparing multi-layered non-woven wound dressing
Preparing multiple natural polymeric layers:
Stacking the multiple natural polymeric layers to form a polymeric structure;
Preparing multiple natural polymeric threads, wherein each of the multiple natural polymeric threads is formed by twisting 300 to 3000 fibers; and
Stitching the polymeric structure with the multiple natural polymeric threads to form the multi-layered non-woven wound dressing, and continuous crossing lines penetrating through each layer of the multi-layered non-woven wound dressing
Non-woven multiple natural polymeric layers comprise alginate, chitosan, gelatin, hyaluronic acid, collagen.
The thread will not cause an immune rejection reaction due to its natural properties.
Advanced Wound Care
In this section of the wound care report, advancements happening in wound care have been discussed comprehensively.
ConvaMax™ combines high absorption and retention to protect from excess exudate. It is a UK-based technology with Multilayer dressings that are made from cotton, viscose, polyester, or foam absorb fluid within the material.
High fluid absorption- ConvaMax™ absorbs high levels of exudate into the Superabsorbent (SAP) core (up to 170g/100cm2) locking it away from the wound.
High retention of fluid and bacteria -ConvaMax™ retains the fluid within the SAP core, ensuring it is not released back to the wound.
Protease modulation-ConvaMax™ has been proven in-vitro to not only absorb MMP's (matrix metalloproteinases) but also bind them.
Soft and conformable- It's soft on the skin, easy to apply, and easy to remove for patient satisfaction. The protective blue backing prevents strike-through and maintains conformability.
A choice to suit each wound-Choice of the full range of sizes to fit any wound type. Choose from adhesive or non-adhesive versions.
Extra protection- Exudate can transfer through the Hydrofiber layer and be absorbed by ConvaMax™, providing a combination of an advanced wound contact layer and high absorption capacity.
Innovations in Wound Care
In this section of the wound care we report innovations that are talked about and can completely change this industry.
Portable Colour-changing paper-based band-aid
Research has developed bandages that change color and release antibiotics and/or reactive oxygen species in response to an infected wound which could curb the spread of antibiotic resistance.
The bandage is made up of paper coated with chitosan.
Bromothymol blue (BTB) responded to the acid environment at infectious sites, accompanied by a color change from green to yellow.
Ampicillin-loaded nanomaterials were coated with chitosan to lure negatively charged bacteria and achieved acid-responsive drug release, thereby killing DS bacteria.
For DR (drug-resistant) bacteria, nitrocefin was changed from yellow to red by the action of β-lactamase, which was secreted by many resistant bacteria.
PBA (green) for sensing bacterial infection (yellow) and drug resistance (red).
Developed a bandage that changes color from green to yellow in response to the acidic environment of a bacterial infection. The material of the dressing reacts to this environment by releasing an antibiotic to destroy drug-sensitive bacteria.
Low cost and easy operation and takes 4 h to sense.
CovaWound™ Silicone
CovaWound™ Silicone Self-Adherent Soft Silicone Foam Dressing with Border
CovaWound™ Silicone Self-Adherent Soft Silicone Foam Dressing with Border (Lite) is absorbent, atraumatic dressings consisting of a soft silicone adhesive that does not stick to the surface of a wound or cause epidermal stripping or pain upon removal.
Its absorbent core consists of polyurethane foam and non-woven fabric to lock in exudate and prevent the wound bed from drying out and the surrounding skin from becoming macerated. The outer surface of the product is a vapor-permeable membrane, which acts as a barrier to liquid and microorganisms.
The membranes present in the dressings:
Permeable Polyurethane Membrane: A vapor permeable polyurethane membrane that acts as a barrier to liquid and microorganisms.
Multi-Layer Exudate Management: Designed to absorb exudate and prevent maceration of peri-wound skin.
Gentle Silicone Adhesive: Facilitates application and retention of the dressing to intact skin. The layer does not stick to the surface of a wound or cause trauma to delicate new tissue upon removal.
Multilayer Foam Wound Dressing
3M™ Tegaderm™ Silicone Foam Dressings Feature Layers Of Innovation
The Patented spoke delivery system enables easy application, even with gloves on, so your other hand is free to position the patient.
3M ™ Tegaderm ™ film backing combines 3M's adhesive innovation and film expertise in a breathable dressing cover. The moisture control layer helps maintain an optimal moisture balance by facilitating evaporation through the film backing.
The superabsorbent layer further pulls moisture away and locks it in place to help minimize the backward migration(maceration).
Fenestrated foam layer improves flexibility and moisture absorption to help minimize the disruption of healing tissue.
Proprietary silicone adhesive keeps the dressing in place without damaging the wound area while allowing exudate to pass through.
---
Each year Signicent provides consultancy to hundreds of organizations to help transform their innovations to value.
---
Market Analysis And Segmentation
In this section of the wound care report the market analysis, trends and segmentation is summarized to better understand the dynamics of the global market.
The global wound care market is projected to reach USD 27.8 billion by 2026 from USD 19.3 billion in 2021, at a CAGR of 7.6% during the forecast period. The limitations of traditional wound dressings have propelled the growth of the advanced wound care market. The high cost of chronic wound treatments and advanced wound care products may negatively affect their adoption, especially in cost-sensitive markets.
An increase in population, with rising in the geriatric population has led to a surge in healthcare expenditure, and development in guidelines is expected to propel advanced wound care. Delayed healing is a key component of a comprehensive approach to wound care and presents the primary challenges to the treatment of chronic wounds.
The global wound care market is segmented into North America, Europe, the Asia Pacific, Latin America, and Middle East & Africa.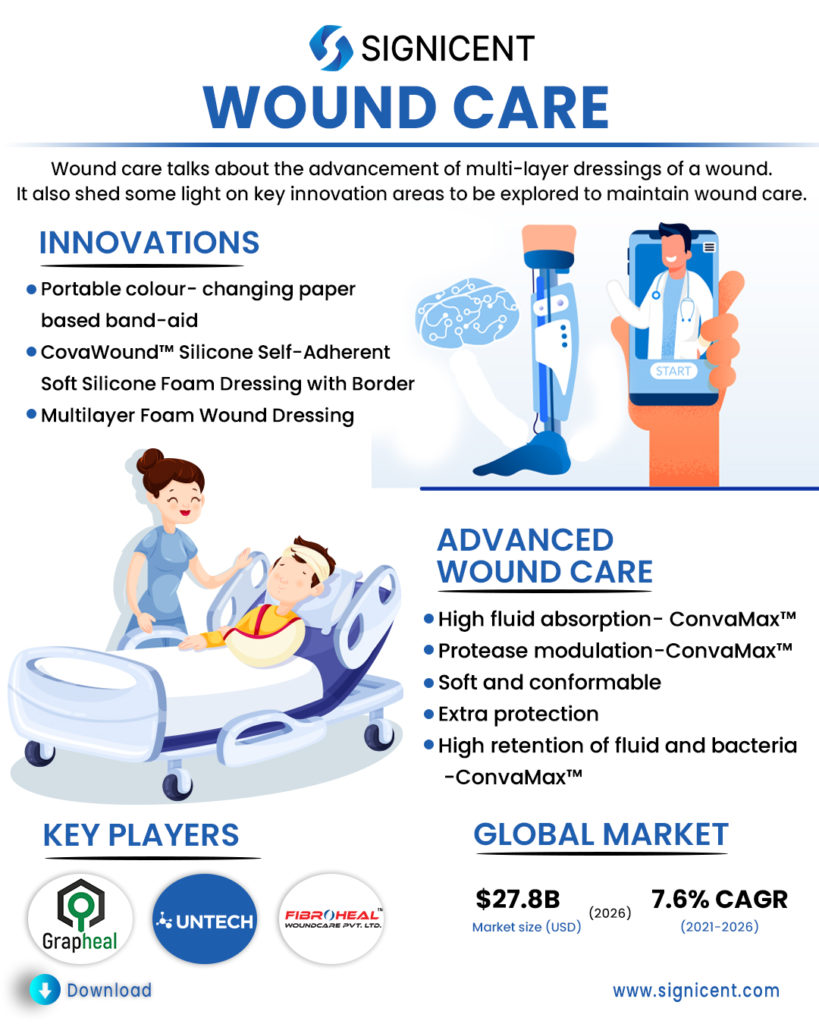 Collaboration: American Medical Technologies and Restorix Health
American medical technologies were founded in 1994. It provides various services which include wound care, ostomy, urology, and tracheostomy supplies and services to long-term and post-acute care facilities.
RestorixHealth was founded in 1997 and is headquartered in New York. It is a leading wound care management company that offers wound care services.
American Medical Technologies and RestorixHealth merge to form a transformative wound care company that gives a platform to serve the patients in a better way. This collaboration further expands the services of RestorixHealth. This platform gives greater care coordination and referral connectivity outside the hospital-based wound center.
3M Completes Acquisition of Acelity, Inc.
The 3M Company is an American multinational conglomerate corporation operating in the fields of industry, worker safety, US health care, and consumer goods. Acelity L.P. Inc., a privately held medical device company, whose wholly-owned subsidiaries developed advanced wound therapeutics products.
In 2019,3M has completed the acquisition of Acelity, Inc. and its KCI subsidiaries worldwide; for a total enterprise value of approximately $6.7 billion. The business offers a range of integrated solutions that include advanced and acute wound care dressings and products, medical tapes, sterilization products, and patient prep and warming products.
Startups
In this section of the wound care report, startups specializing in wound management are discussed.
Grapheal is a France based company that develops wearable and disposable biosensors enabling continuous monitoring and on-site diagnosis. Smart solutions for monitoring wounds. Its electronic wound patch measures and stores wound bio parameters, then communicates them to a medical cloud via a smartphone application.
Untech is a US-based company that creates a gel that aims to permanently heal chronic wounds. The startup utilizes cross-industry advancements in biotechnology and pharmaceuticals to create an anti-pathogenic, anesthetic, and pro-healing gel. Gel's formula combines molecules and enzymes that heal chronic wounds.
Fibroheal Woundcare is an Indian startup specializing in silk proteins as biomaterials for creating active wound management products. The startup's patented silk bio-engineered products address the unmet needs and challenges of wound care management. D-Fibroheal Ag Foam is a sterile, soft, conformable, and bi-layered silver-impregnated polyurethane foam dressing for heavily exudating, hard-to-heal, and stalled or cavity wounds.
Future Perspective
In this section of the wound care report, the future technologies and products have been briefly discussed.
Automated dressing Technology-enabled and smart bandages equipped with pH and temperature sensors that continuously monitor the wound pH and temperature.
Microneedle arrays (MNAs) can be used to control the distribution of the drug within the wound bed, MNAs were 3D printed and integrated within a flexible backing to form a conformal dressing.
Smart systems can prevent some of the complications of impaired wound healing through real-time monitoring of the wound for markers indicating infections or persistent non-healing status.
---
Recent Report