The objective of the report is to conduct a technology exploration study in the area of the automotive industry with an emphasis on the chassis system. The automotive chassis report will encompass the following aspects:
Technological innovations and researches on automotive chassis cover hybrid chassis, and lightweight chassis systems.
Competitors' activity (CI) includes recent launches, announcements, business strategies, etc., in the automotive industry.
Global market analysis consists of various segments and sub-segments, such as different technologies, regions, application areas, etc.
---
The chassis is an essential component of a vehicle (be it a car, jeep, or any heavy-duty vehicle). And the conventional chassis is primarily developed using steel as the main material. Even though steel is widely available and has excellent mechanical and thermal properties, it is also relatively bulky and increases the weight of the vehicle, which makes it challenging for the automobile industry to manage the overall weight.
Challenges
The conventional structure of the automotive chassis is heavy, which increases the weight of the vehicle. The automobile industry has to work on weight reduction of the novel chassis and maintaining the size, shape, and topology of the developed chassis.
Further, the conventional structure failed to withstand high stress. The automobile industry is focusing on composite and lightweight materials as an alternative to steel. The aim is to make a lightweight structure while maintaining strength and stress properties.
In conventional designs, more leaf springs are required to bear the extra load resulting in increased weight of the vehicle. Moreover, steel is heavier in weight, therefore increases the kerb weight of the vehicle.
Innovative Solutions
This section of the automotive chassis report discloses the recent innovations encountering significant challenges in the automotive chassis.
Mono Leaf Spring Reinforced with Carbon Fiber
Kaunas University of Technology (Europe) has developed a mono-composite leaf spring to replace the conventional multi-leaf spring in automobiles. This mono-composite single-leaf spring has higher mechanical and thermal properties compared to the conventional multi-leaf spring. Therefore, it can withstand more loads without further increasing the weight of the vehicles, as it is lighter in weight. This mono-composite leaf spring with unidirectional fiber orientation is made of carbon fiber epoxy compound. Additionally, carbon fiber epoxy and glass fiber epoxy have high tensile and flexural strengths. Additional features of the carbon fiber composite material used in the leaf spring include:
Excessive energy-to-weight ratio.
Convenient availability
An easy and hassle-free fabrication method
Box-Behnken Design
The University of South Africa comes with a Box–Behnken design. This novel design uses P100/6061 Al and Al GA 7-230 MMC (Material Matrix Composite) in ANSYS software. The proposed material shows significant improvements in properties like:
Increased strength and lighter structure.
less deforming and more durable than the C-type or I-type design. It increases the safety level measurements.
helps reduce weight by nearly 68% more than conventional material structures.
---
Each year Signicent provides consultancy to hundreds of organizations to help transform their innovations to value.
---
Amodel® Supreme PPA
Solvay introduced a new line of high-performance polyphthalamide (PPA) compounds designed to fulfill the increasing demand for e-mobility and metal replacement applications. Amodel® Supreme products are more effective at higher temperatures as compared to the conventional series products (6000 and 8000). The technical features of this lightweight material for metal replacement are listed below.
The new-age material brings a higher level of performance to systems requiring exceptional thermal, mechanical, and electrical properties.
It has a higher Coefficient of Linear Thermal Expansion (CLTE) than metals, making it easy to design the over-molded components.
It improves electrical properties, including volume resistivity and dielectric strength above 150 °C and the highest glass transition temperature of 165 °C, resulting in better mechanical performance.
It offers stiffness and toughness to replace metal in traditional and structural applications such as clutch cylinders, shift forks, and the body in white.
Market
Signicent's research has found that the global market for automotive chassis systems is growing at a CAGR of 5.74% during 2021–2027. The market size is expected to reach $112.02 Bn by 2027, from $80.14 Bn in 2021.
The automotive industry uses advanced technology in chassis production. To meet the expectations of the industrial revolution, companies are using lighter materials for the production of chassis, which is beneficial for the cost of production as well as fuel economy. Moreover, more components (adding to the future advancement) can be added to the vehicle if the chassis weight reduction is achieved.
Market Segmentation
The market experts at Signicent have segmented the automotive car chassis market into the following factors:
Chassis in Vehicle
Passenger Vehicle
Light Commercial Vehicles
Heavy Commercial Vehicles
Chassis System
Rear Axle
Front Axle
Corner Modules
Active Kinematics Control
By Region
APAC
North America
Europe
RoW
Partnership
Teijin, a Japanese company founded in 1918 is globally known for its wide range of products, like automotive, carbon fiber and composite materials, medical products, etc. AZL is another German company founded in 2013 that works on composite-based multi-material technologies and state-of-the-art infrastructure for the entire value chain for lightweight and beyond.
In 2020, Teijin Group formed a strategic partnership with AZL. They aimed to transform their business model to achieve multifunctional, lightweight, and next-generation automobiles. Their manufacturing mainly focuses on lightweight production technology, bio-based composites, and multi-material battery enclosures for electrical vehicles (EVs).
Key Players
This section of the automotive chassis report enlists the key players actively working on the advanced models of automotive car chassis.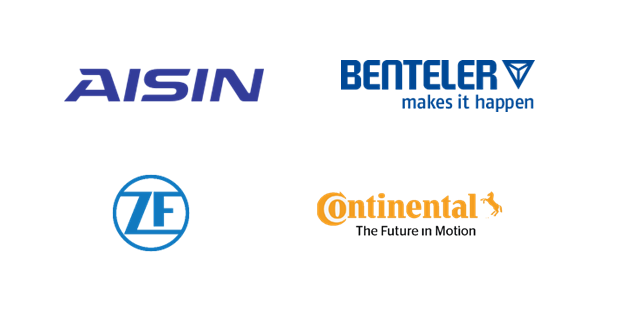 ---
Recent Report