Genzyme, a fully owned subsidiary of Sanofi Aventis has filled an infringement lawsuit against Dr Reddys Laboratories (DRL), an Indian generic drug manufacturing major and has alleged that Dr. Reddys has infringed patents of its blockbuster cancer drug Mozobil.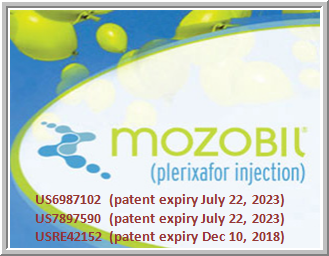 Mozobil is the proprietary name of the drug whose active ingredient is PLERIXAFOR. The product is protected by US patent numbers US6987102 (patent expiry July 22, 2023), US7897590 (patent expiry July 22, 2023) and USRE42152 (patent expiry Dec 10, 2018). The US'102 and US'590 are on Methods to mobilize progenitor/ stem cells and USRE'152 is on Aromatic-linked polyamine macrocyclic compounds with anti-HIV activity. The exclusivity period of the drug is expiring on December 15, 2013 according to FDA. The FDA application number for Mozobil is (NDA) 022311.
Dr Reddys Lab's ANDA was submitted to FDA to obtain approval to engage in the commercial manufacture, use, sale and importation of Dr Reddy's ANDA injection product prior the expiration of three patents and it infringe on three in force Genzyme patents. Genzyme has filled the petition in District Court of Delaware.
According to the Sanofi's 2012 annual report, Mozobil contributed Euros 96 million to its revenues. The case has lead to fall in the share price for DRL.